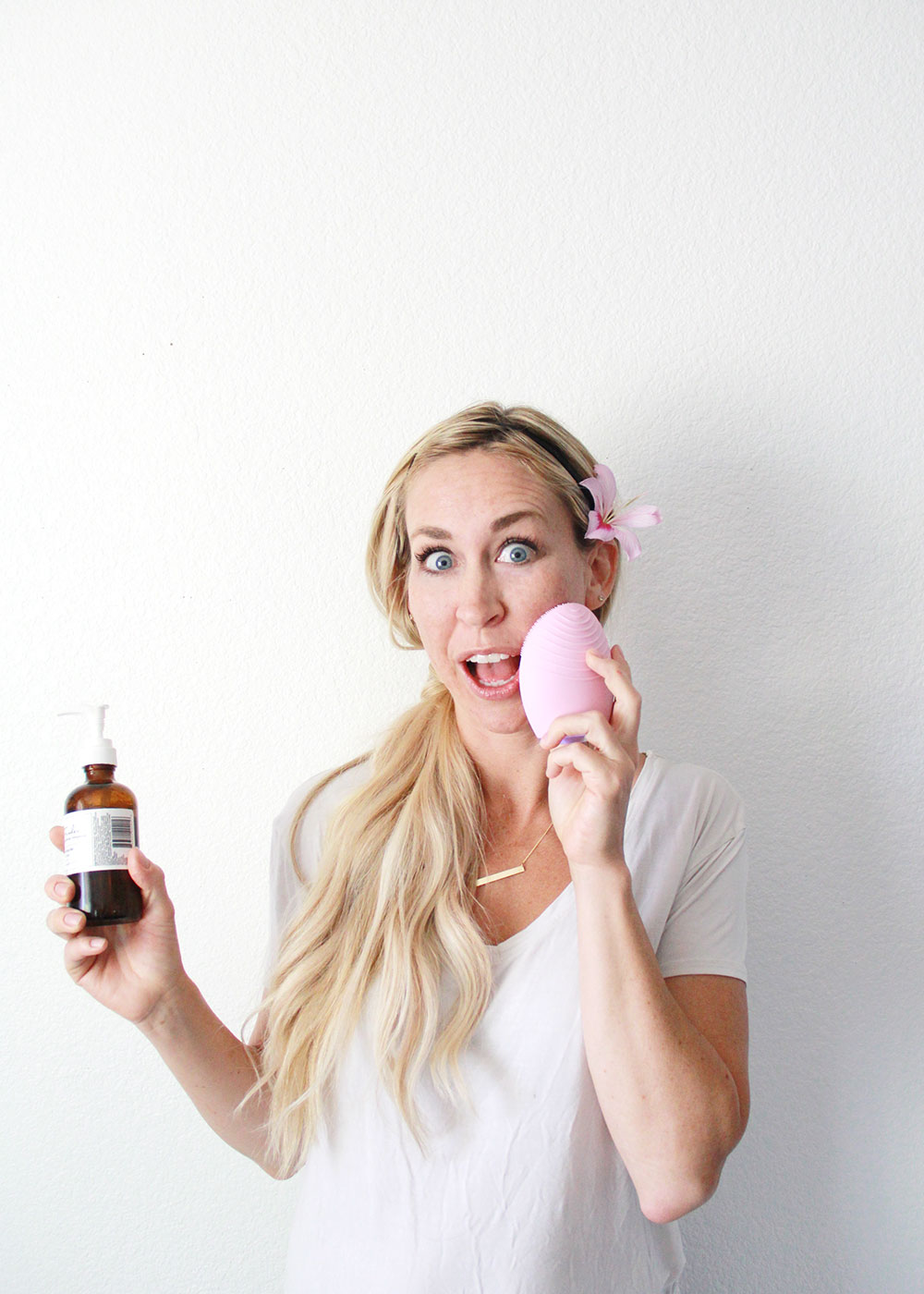 This year, I turned 34 [yikes!], and so I finally decided it's time I start stepping up my skincare game!
I always had pretty good skin through my teenage years. A few zits here and there, lots of freckles, but overall, good.  But then when I got into my mid-20s, I started getting cystic acne. I went through various treatments, consulted with a dermatologist, and changed my skincare routine several times during that period. I'm honestly not really sure what I ever did that really helped. And then I got pregnant! During pregnancy, I didn't want to use anything that wasn't natural or could pose any risks to the baby. And from there I have pretty much been pregnant or nursing until now! Pregnancy actually turned out to be pretty good for my skin though, as far as the cystic breakouts. So I could afford a more low-maintenance approach during that time.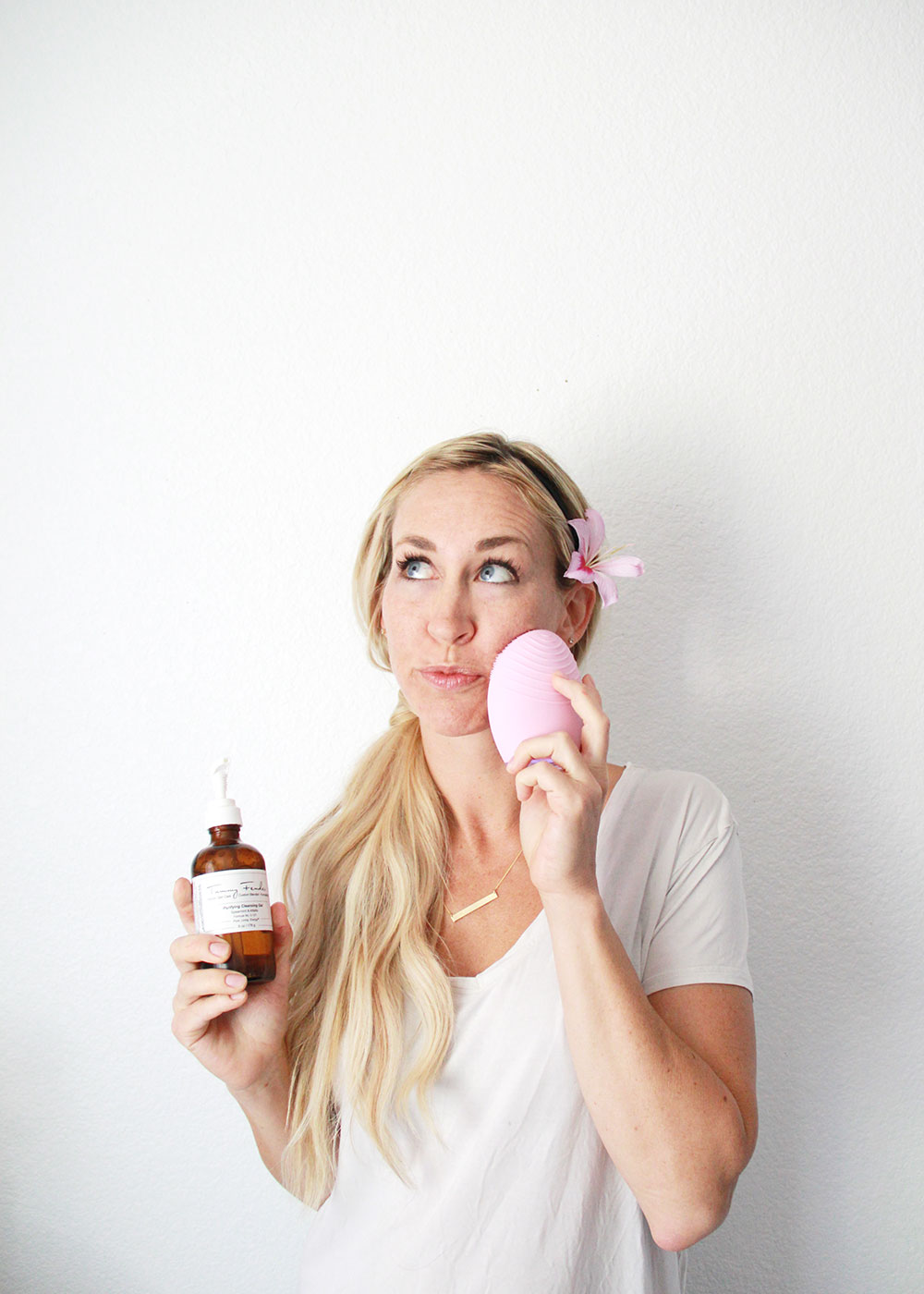 Then over the past couple of years I have been battling my extreme eczema. Which at times, did spread over my entire face. When it got that bad, there was virtually nothing I could use on my face or skin that didn't irritate it more. So I sort of got out of the habit of having a skincare routine and just stuck to a basic, super gentle bar soap and a clean moisturizer.
Which brings me to today. My eczema is more in control, and I am done with babies and breastfeeding. But in exchange, my oily/combination skin has returned. So, it's time to get back into a routine and start taking care of this skin again!
Back in the day, I used to have a Clarisonic facial cleaner. I loved how clean it got my face, but hated having to buy and change out the brushes and how nasty all the little nooks and crevices would get each time. So recently, when I was looking for an alternative, I found the LUNA 2 personal facial cleansing brush from FOREO. It's made out of one piece of silicone, with soft bristles that are hypoallergenic and never have to be replaced! My skin felt softer after the first time I used it! I also use the back side of it to help apply moisturizers, which gives a little gentle massage and is supposed to help minimize those pesky wrinkles.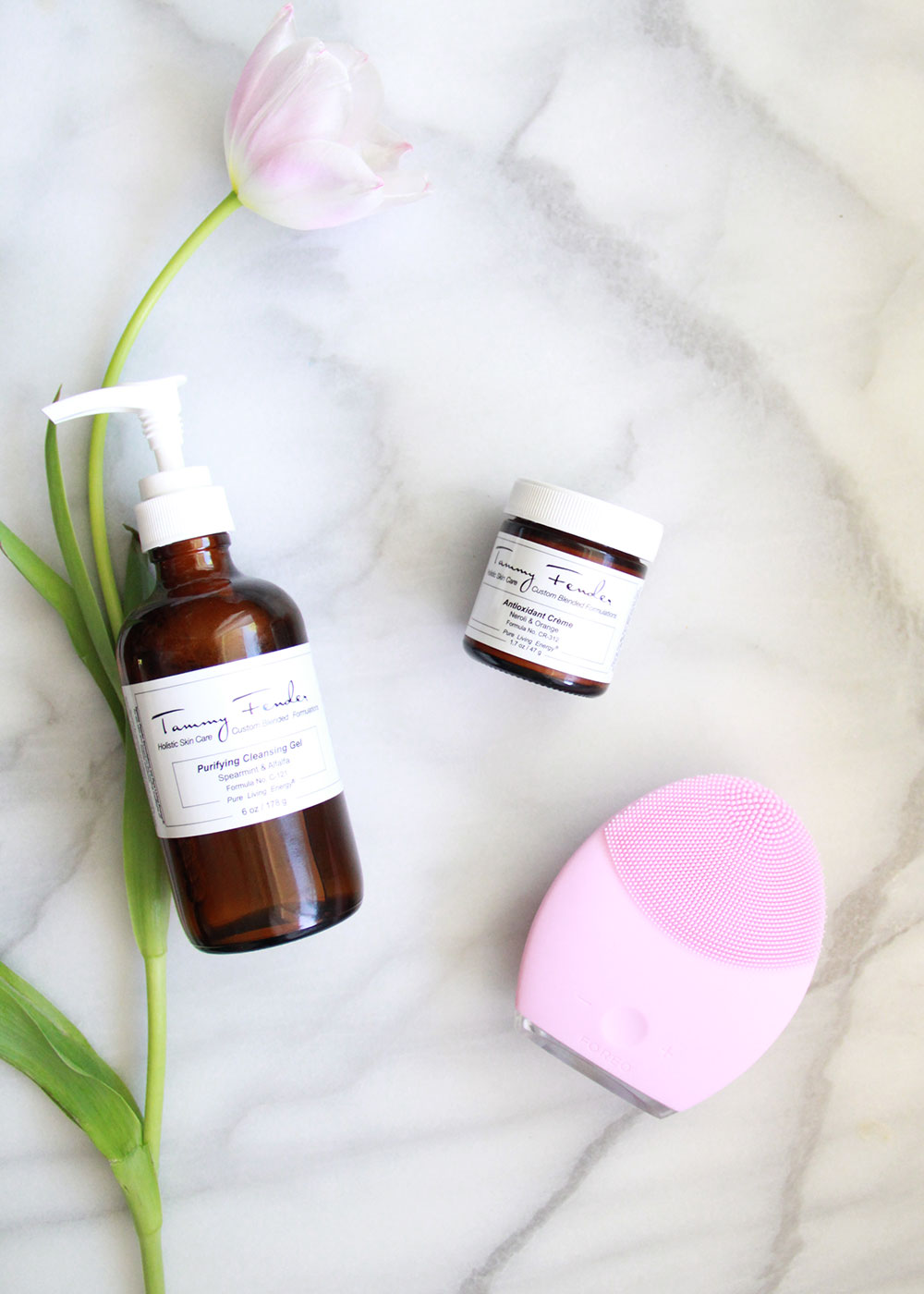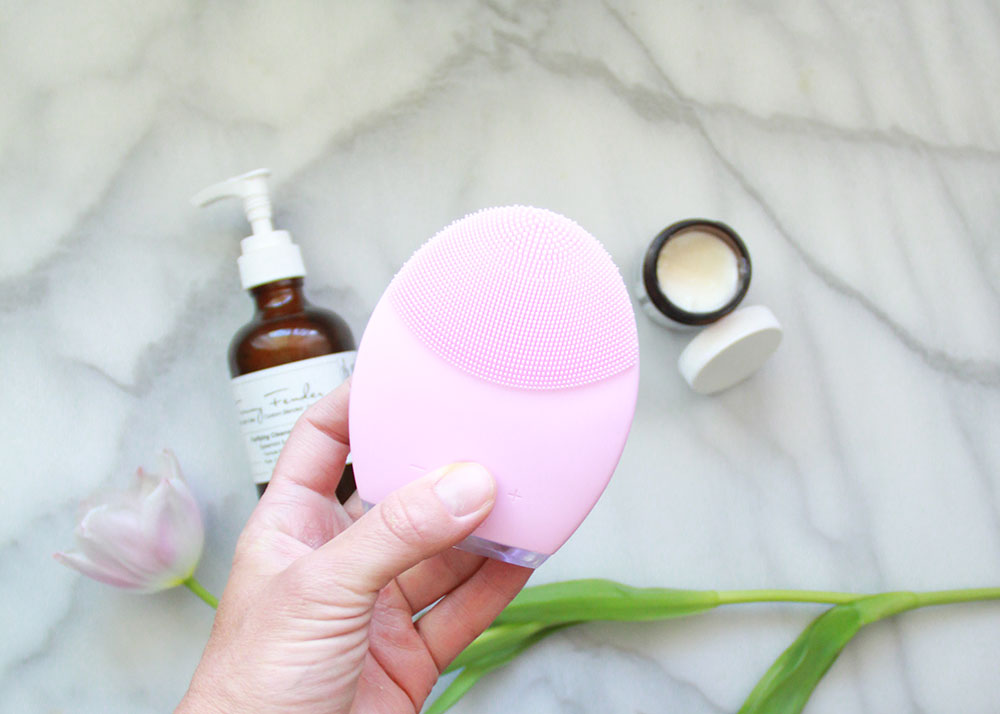 [Related: You can also see how much I love my favorite toothbrush I got last year by FOREO, the ISSA hybrid]
When it comes to products, I have to be SO careful about what I use because of my sensitive skin. I am allergic to a common synthetic preservative that is in hundreds, if not thousands of beauty and household products. [It's called methylisothiazolinone, in case you're wondering.] The challenging thing is, there are basically no regulations in the US for how household and beauty products are labeled. In fact, these types of products are not required to list ingredients in their products at all. It's scary. So for better or worse, that leaves it up to us consumers to research and learn what ingredients we don't want in our products. And it also means we have to trust the brand's labels, and that they will list all the ingredients. [Which they don't always do!] All this to say, I do not recommend products lightly around here!
[Related: some of my favorite SAFE beauty products and household cleaners.]
So, I am SO happy that I found Tammy Fender Holistic Skincare! They use truly 100% botanical ingredients [the preservative I'm allergic to is a synthetic so it is NOT in it!]. And no sign of any of the other nasty things in a lot of beauty products like parabens. I have been using their Purifying Cleansing Gel along with my LUNA 2 to cleanse, and the Antioxidant Creme to moisturize. They both smell clean + natural, no artificial perfume-y smells [which I HATE]. In between I use a plain witch hazel
as a toner, and I also started using a charcoal face mask 1-2x per week. So far I am loving this combo! I have a lot of clogged pores at the moment, but I can tell they are finally starting to come to the surface and clear out. YAY.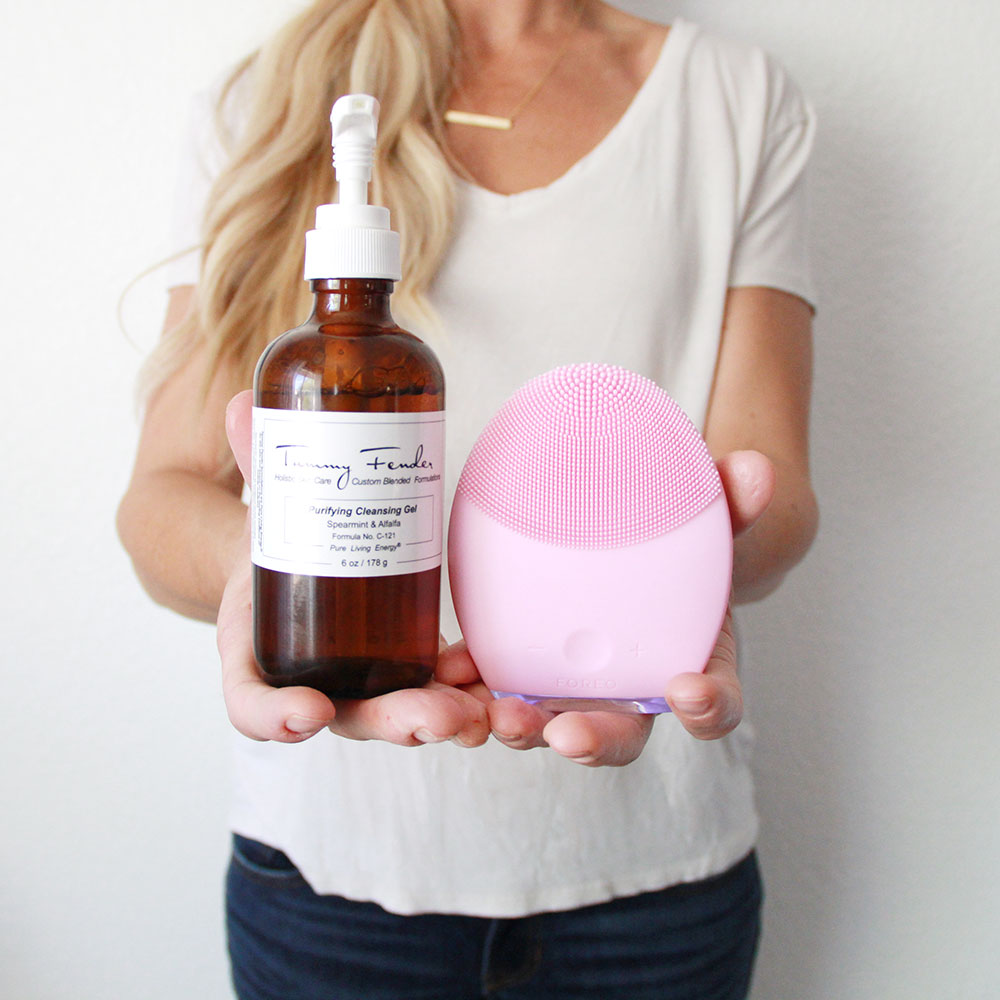 If you are in need of a step up in your skincare routine too, GOOD NEWS. I have a giveaway going on my Instagram  @thelovedesignedlife today where you can win all of these goodies! Make sure to head over there, look for this photo in my feed, and follow the easy instructions there to enter!
1 LUNA 2 facial cleanser of choice
1 Tammy Fender cleanser of choice [Purifying or Cleansing Milk]
1 Tammy Fender Antioxidant Creme moisturizer
Total retail value of these products is over $300! And it's such a simple way to update your skincare routine. I know one lucky someone is going to love it!
This post was created in partnership with Foreo + Tammy Fender Skincare. Thank you to both brands for contributing product for this giveaway! This post also contains affiliate links, which if you click through and make a purchase, will pay me a small commision. All opinions expressed on The Love Designed Life are always honest + my own and as always, thanks for supporting our family through this blog!