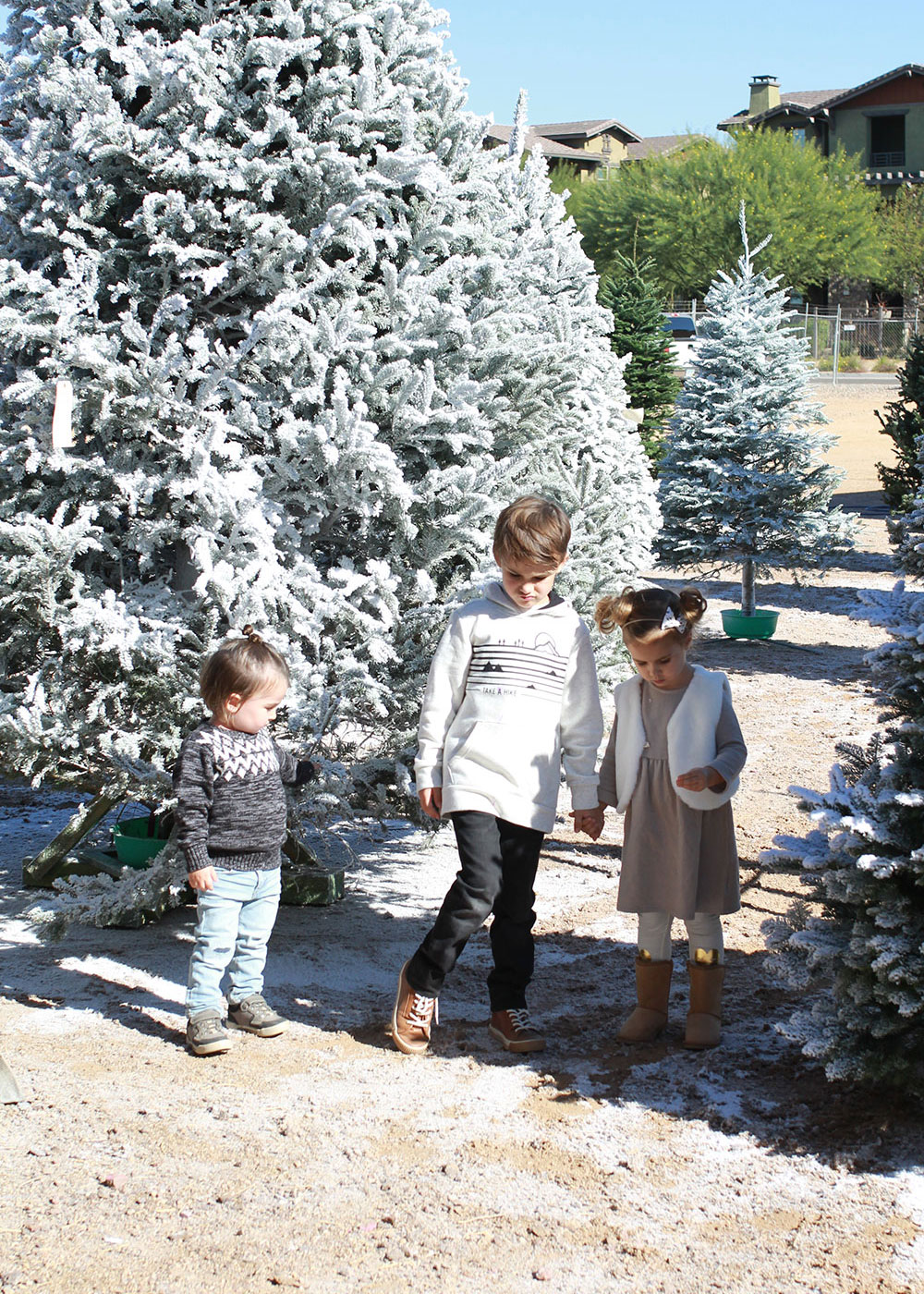 Now that the rush of Cyber Week is behind us, I wanted to share a few of my favorite simple holiday gift ideas for kids. I got most of my shopping done, but if you didn't, not to worry! There is still plenty of time to get what you need by Christmas. And as I was putting this together, I found a few of the Cyber Sales from this last week have been extended! So there are still some good deals out there!
I've also teamed up with a few of my blogger mama friends today to give you even more ideas for kids this season.
If you've been following along, with The Mom Blog Collective series here on the blog, you know usually we chat about motherhood, blogging, Instagram, etc. Since the holidays are such a busy season and we all are trying to get so much done, we thought this could be something fun and different to share, as a part of the motherhood experience. Check out the hashtag #themomblogcollective to see more of our past posts on Instagram. And today, I will also link you to all of the amazing blog posts here at the bottom of my post!
You might also want to check out the last few posts in the Mom Blog Collective series:
My Top 5 Tips for How to Start a Blog or Instagram | How to Build Your Online Community | How to Take Better Pictures | How to Balance Blogging and Motherhood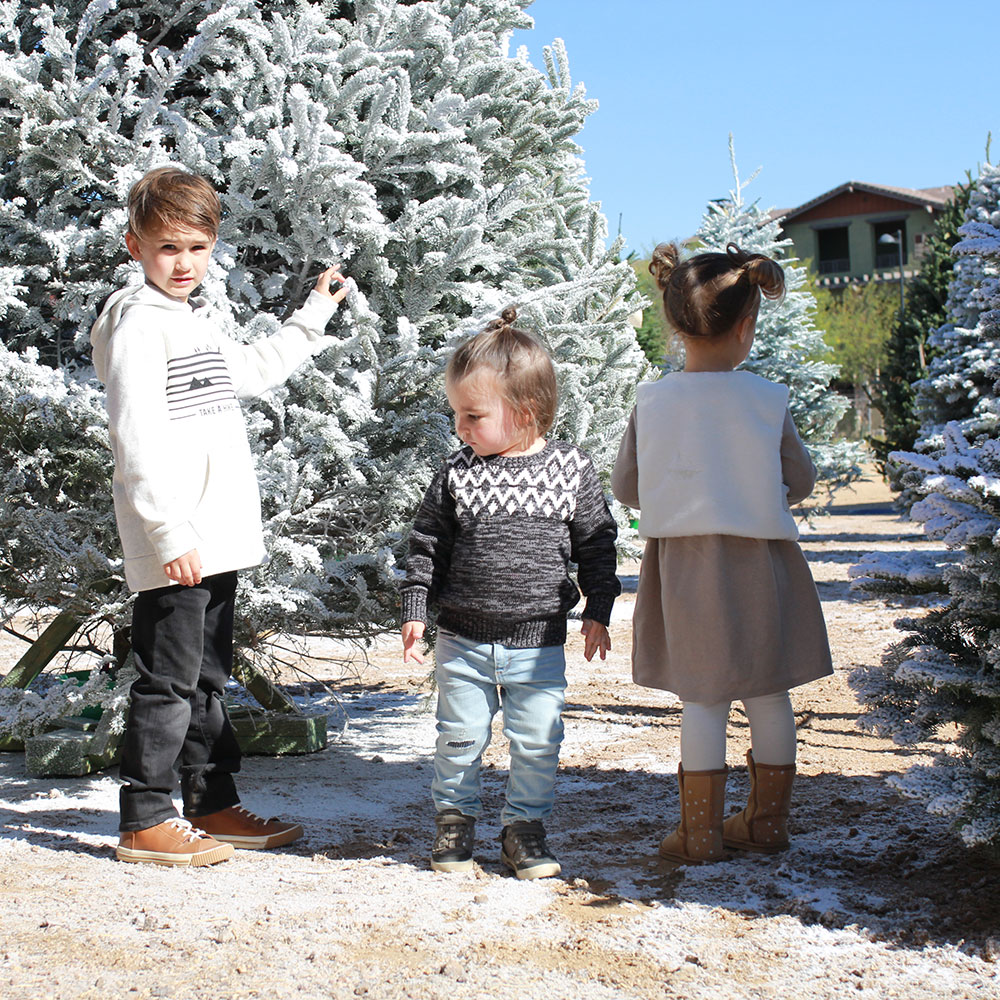 I chatted a little bit about this last year, but in our family, we have really made an effort in recent years to keep the craziness of the holiday season to a minimum. Admittedly, it's been an internal struggle, as I have always really loved the Christmas season. But since having kids, I feel that the demands on our time and to add one more fun thing and buy more and more stuff just has gotten out of hand. Not to mention how expensive it can get to buy all this "fun". Last year I was SO done with it by the end! This year I suppose my feelings are somewhat in between. I still LOVE the Christmas holiday season. But I do also think that we just don't need to do ALL the things. And we certainly don't need to go crazy with the gifts.
I was chatting with a friend about the idea of having a more minimal Christmas last year and she told me about a little concept that I had never heard of at the time. But I since then, have heard of it again, and I really love it. It's just 4 simple things for each kid:
Something they want
Something they need
Something to wear
Something to read
I feel I have always shopped in these categories to a certain extent, but I love the simplicity of this concept. It can really just be one gift from each category! We plan to do one "big" gift for each kid from Santa [from the "want" category"], as well as a few simple stocking stuffers in addition. And then will follow the 'Rule of 4' for the gifts from us parents.
So I put together these lists for you of just some of my most favorite places to shop, things we already have, or things we will get the kids this year. Some are specific to what my kids love, but most are gender neutral!
First up is the want list. Probably the easiest of them all, right? I always try to look for quality gifts that will get more than one season of use, preferably years. And I despise plastic toys! All of our kids have loved their scooters though, and this one I have here has been the best from a young age.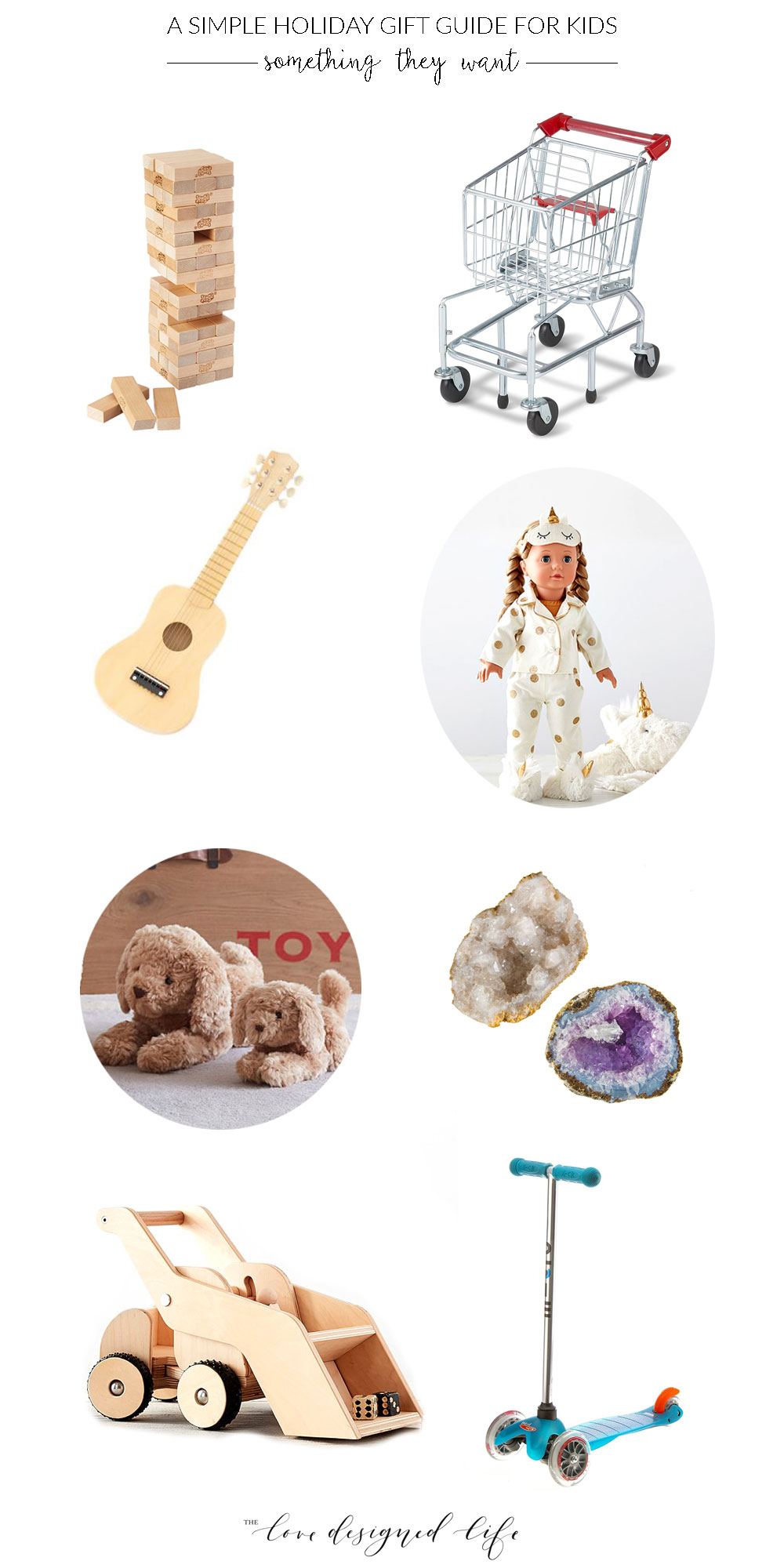 jenga | metal shopping cart | toy guitar | "Allie" doll | labradoodle puppy | break open geode set | wooden dump truck | micro mini scooter

Next up, is the need list. For us right now, all the kids are busting out of their jammies. Also at this time of year, it is finally getting cooler, and the house can be pretty chilly at night and in the early mornings. The kids love to have a layer with a robe or sweatshirt, and also slippers to keep their toesies warm. Socks are always a good stocking stuffer all around. And this larger play table will be a gift from Nana and Papa for their new playroom [coming next year]!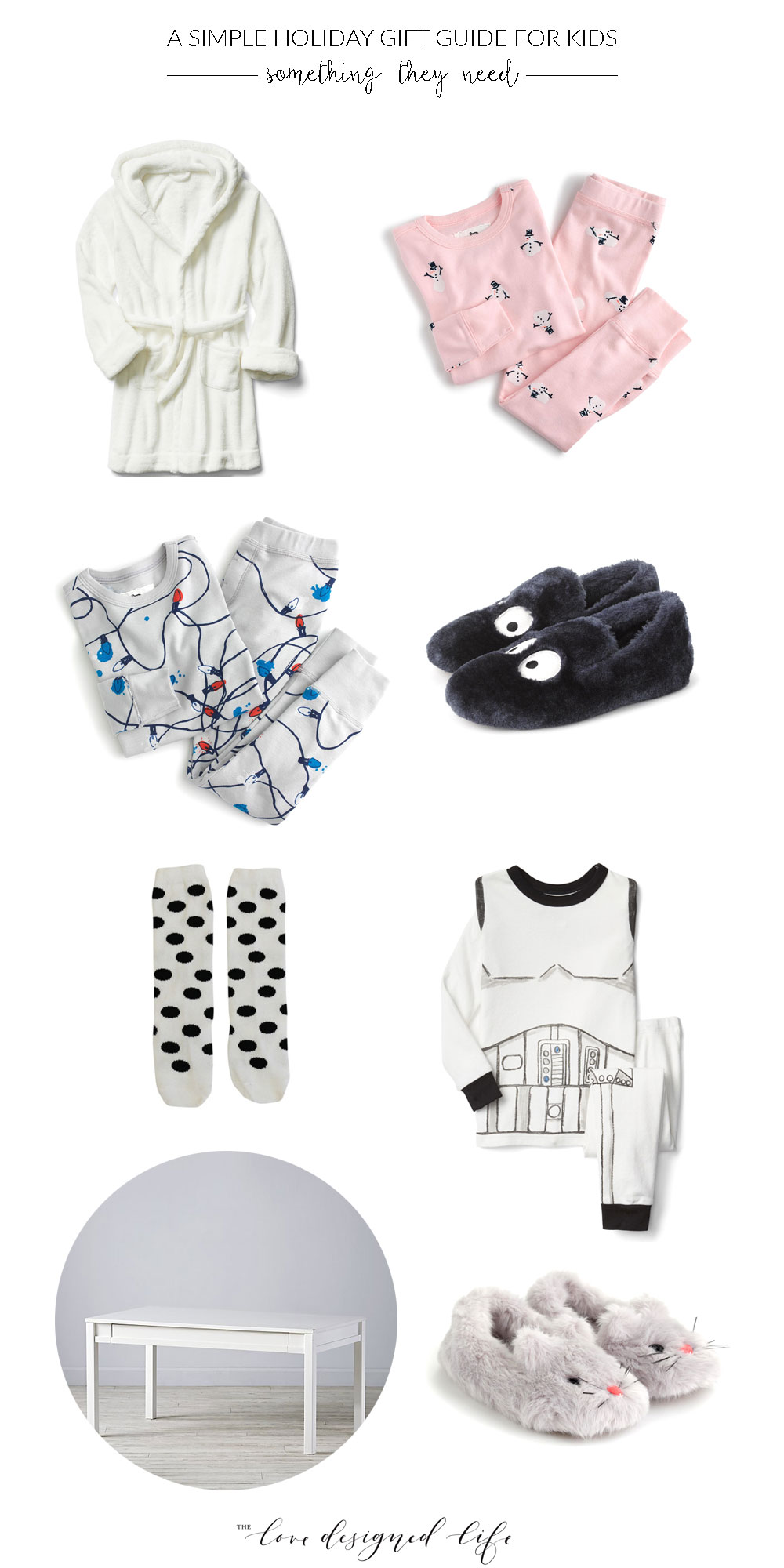 kid's robe | snowman jammies | christmas light jammies | monster slippers | knee high socks | star wars jammies | play table | bunny slippers

Finding fun and unique things for my kids to wear is probably one of my favorite pastimes. Again I look for special, timeless pieces that will last through lots of wash and wear. And again, not a fan of bright colors or characters over here! These pieces are from a few of my favorite places to shop for the kids.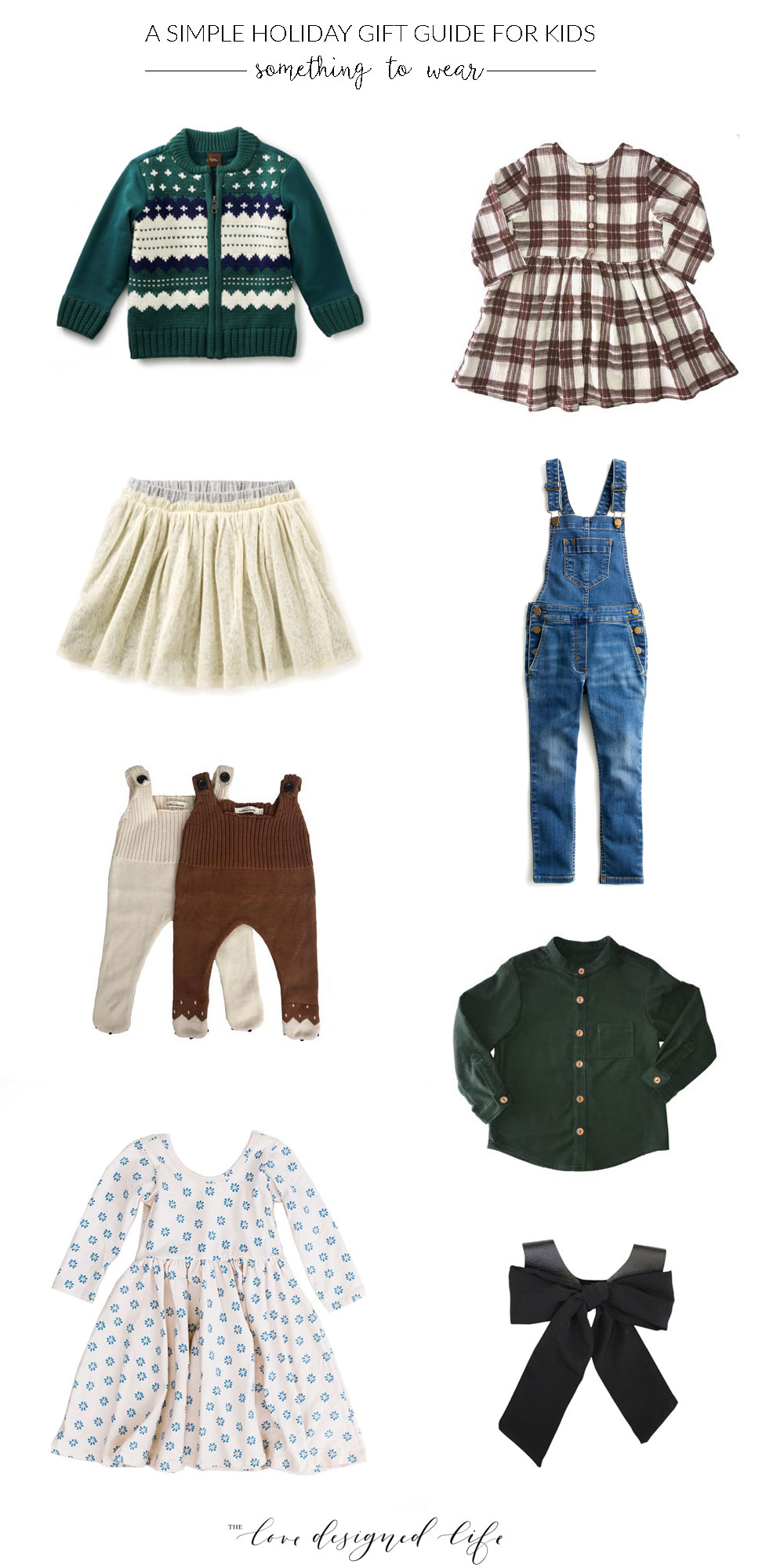 zip cardigan | plaid dress | tulle skirt | girl's overalls | knit baby romper | button down shirt | ballet twirl dress | bow collar

And lastly, something to read. Each of my kid's schools has a book fair every year around this time. So I usually shop there to support the school and get them some new things to read for the year. But here are a few of our favorite classic titles from years past!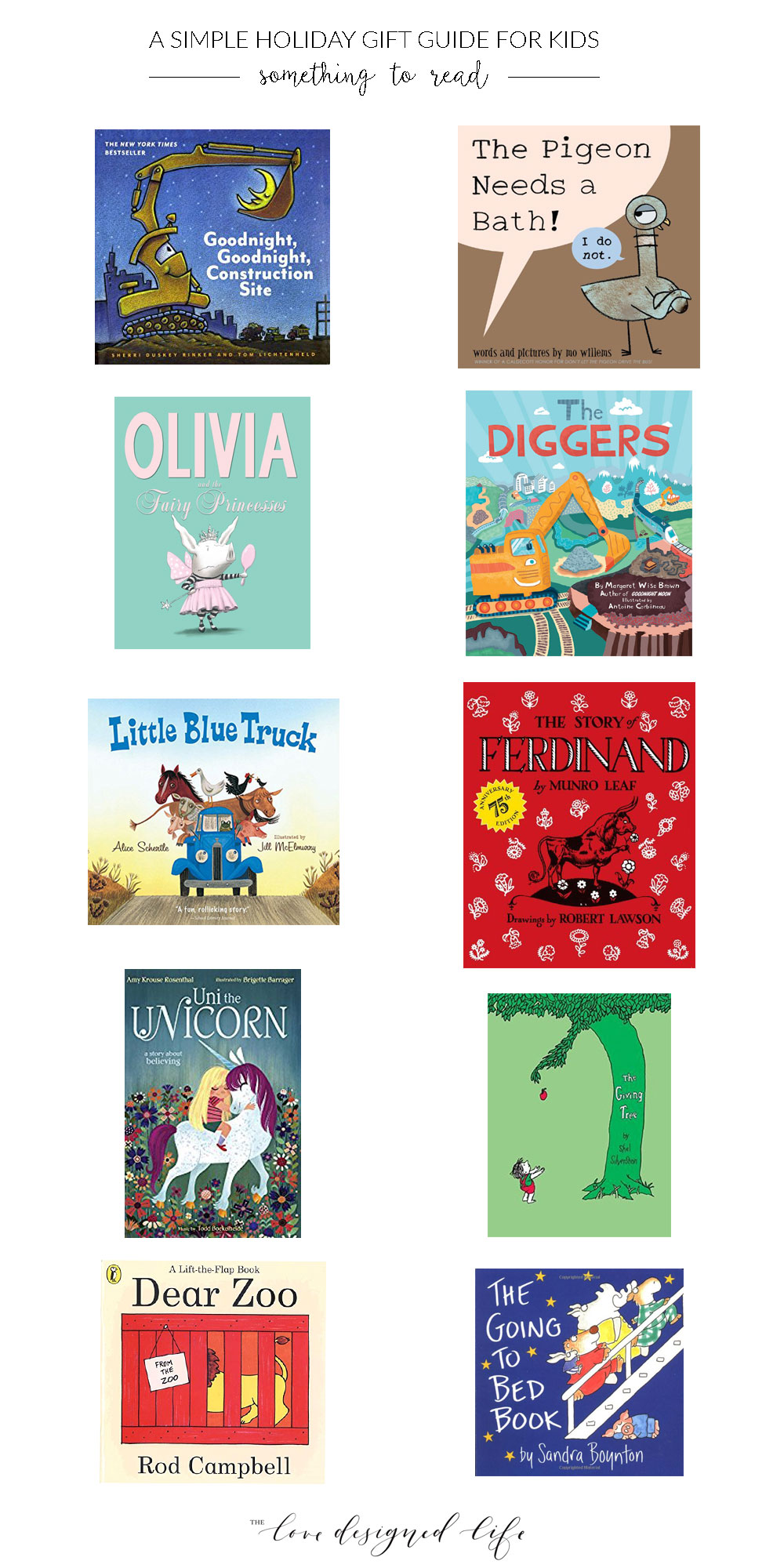 good night, good night, construction site | the pigeon needs a bath | olivia the fairy princess | the diggers | little blue truck | ferdinand the bull | the giving tree | uni the unicorn | dear zoo | the going-to-bed-book

And here she is, having just discovered the first two gifts under the tree this season, but she still had to wait almost a whole month to find out what's inside!
Here are some links to the other mama's posting gift guides for kiddos today. Be sure to check them all out!
http://www.stephpollock.com | @steph__pollock
cultivatemotherhood.com | @cultivatemotherhood
occasionallyperfectstyle.com | @occasionally_perfect
thelovedesignedlife.com | @thelovedesignedlife
our guests this week:
hellotinylove.com | @hellotinylove