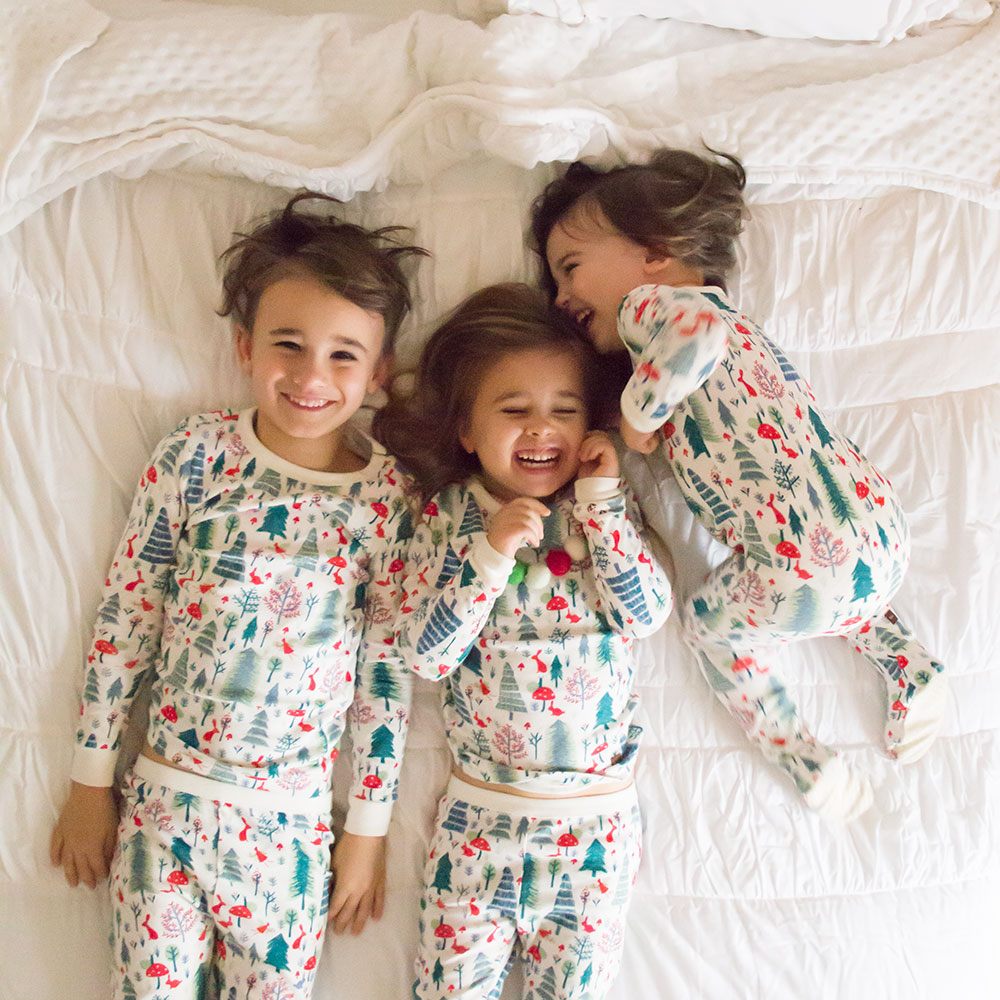 This is now the third year now I have done my Twelve Days of Giveaways series, and I am so happy to bring it back this year yet again! Throughout the last 3 1/2 years since I started blogging, I have had the pleasure of working with so many awesome brands. This giveaway series was something I thought of a while back, in an effort to create a more unique and personalized giveaway and as a way to say thank you to all of you who follow along here and support our little family. It sounds cliche, but it honestly means the world to me and almost seems like a dream to be where I am now from the blinking cursor I stared at back when I first started, wondering if anyone would even read the things I wrote! And of course I know I haven't grown the fastest and I'm not the biggest blogger out there, and that is perfectly ok by me. I'm still just so dang grateful to those of you who are here!
I won't lie, putting together this type of giveaway is a lot of work. I have always held myself to pretty high standards when it comes to content creation. Such as, I would never team up with a brand that I didn't already have personal experience with or at the least, a genuine interest in experiencing. That's why I use all my own photos to show you how we personally use and love these brands. In the interest of transparency, I also want to share that I do not gain anything financially from teaming up with these brands for this giveaway. All of them have gifted me product in order to share with you. But each and every one of these brands are those I personally love and reached out to to make this giveaway happen! It's honestly hard to narrow it down to just 12 to share with you at this time of year! But these are just a few of my faves that I have worked with in the past year, some for even longer.
This giveaway series will last for 12 days: today, December 1st through December 12th, 2017. Each day, a new giveaway will post over on my Instagram feed @thelovedesignedlife. Each giveaway will run for 48 hours from the original post time, and the winner will be announced within 24 hours of giveaway close. All you have to do is make sure you are following me, and also follow the brand you are entering the giveaway for. Tag your friends on my giveaway post – the more the merrier [and better chances of winning]! All rules will also be listed on each Instagram post!
So here they are, this year's #theldltwelvedaysofgiveaways brand partners! Plus, a little bit about why I love 'em.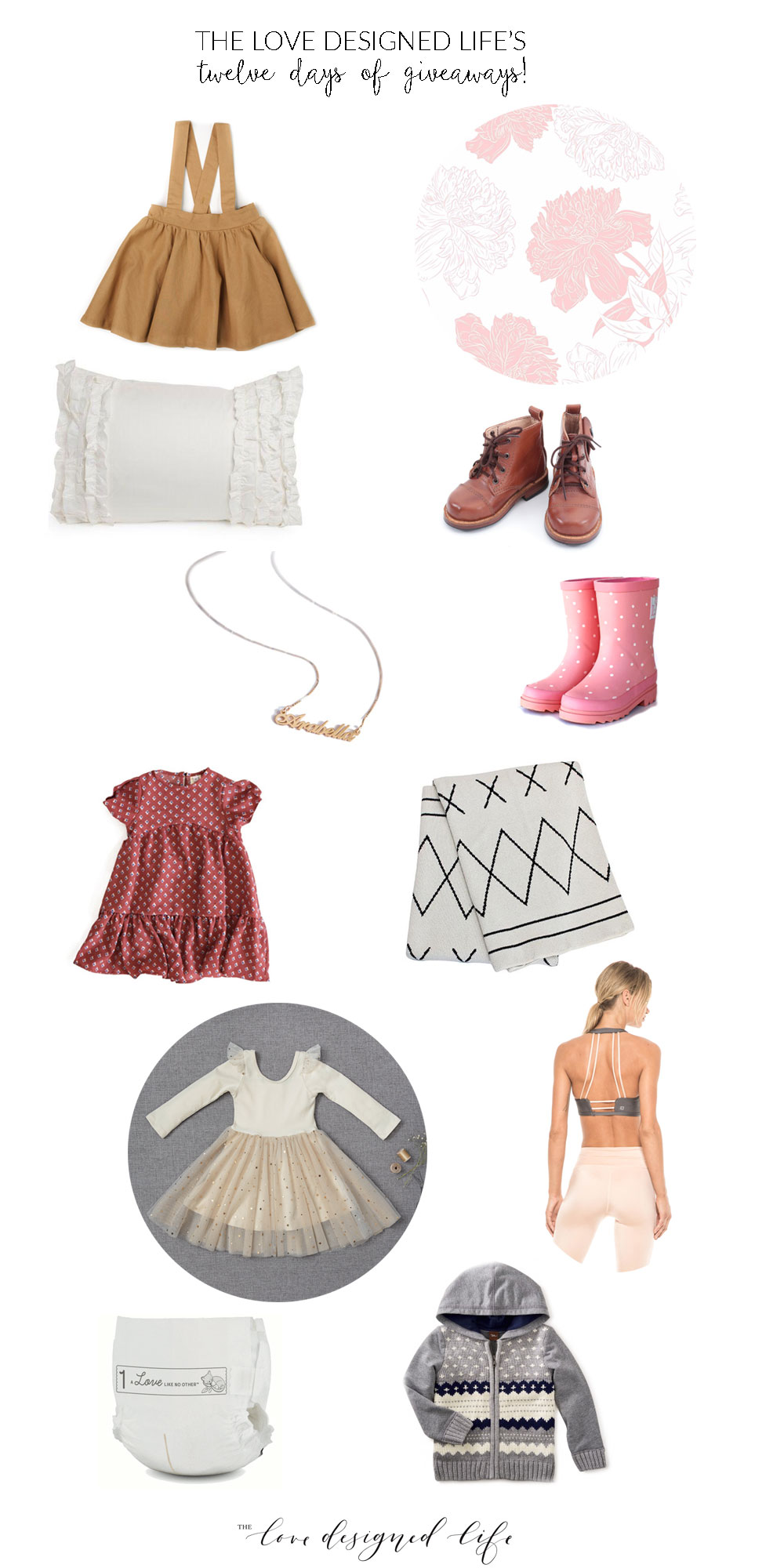 DAY 1: Fin & Vince // @finandvince – I 'met' Makel @makelmg, 1/2 of the Fin & Vince team, via Instagram and fell in love with her style. Then I found out she was also co-creator of the timeless children's wear line and she had my heart. We've stayed in touch over the past year or so and I am so honored to have my little girl get to wear her clothes every now and then! Enter on this day for a chance to win $100 shop credit to Fin & Vince!
DAY 2: B Darling // @shopbdarling – Owner of B Darling, Whitney @_whitneyfox is another friend I met through Instagram! At the time she was pregnant with her second and we were looking for an influencer to shoot for our (then) new @motherandchildco sessions. Whitney has since moved away and started this adorable REMOVABLE wallpaper line and I couldn't be more proud to call her a friend. Enter on this day for a chance to win $150 shop credit to B Darling!
DAY 3: Beddy's Bedding // @beddysbeds – I came across Beddy's zipper bedding when I saw a friend post about it, and then I realized I had also seen this mom-inspired genius idea on Shark Tank once! I love supporting  mom entrepreneurs, and let's be honest, I love that my kids' beds are always made. 😉 Enter on this day for a chance to win $150 shop credit to Beddy's!
DAY 4: Mikoleon // @mikoleon – I have been lusting after a pair of these handcrafted boots for over a year! I also love that they are unisex. You best believe Diego will be wearing these after my daughter has grown out of them! Enter on this day for a chance to win $50 shop credit to Milkoleon!
DAY 5: Jays & Jewels // @jaysandjewels – I have literally been searching for the perfect way to incorporate all three of my babies onto a personalized necklace for YEARS. I even hesitated to get anything personalized when my daughter was still a baby, pretty sure we would have one more! Owner Vanessa and I also met through Instagram, and she was so sweet and patient with me as I was trying to decide how to incorporate all the names on to beautiful jewelry pieces. I couldn't be more happy with how they came out! Enter on this day for a chance to win $50 shop credit to Jays & Jewels!
DAY 6: London Littles // @londonlittles – Owner Janssen @everydayreading and her husband are AZ locals! I've met Janssen before in person at a few different blogger events. Then over this past summer, she asked if we would want to participate in a photoshoot for her new boot line. Of course I said YES! With four kids in tow, a successful blog, and now a new line of boots, Janssen is truly one of those women who makes you wonder, "how DOES she do it all?!" Enter on this day to win a $50 shop credit to London Littles!
DAY 7: Crew + Lu // @crewandlu – Another Instagram friend turned real life friend, I was a fan of Uyen @house_of_lu and her darling clothing line before I ever even moved to Arizona. Once I was here, we eventually coordinated to meet in real life and hit it off! I love supporting her small business, and love that she supports me. She is such a creative force, this one! Enter on this day for a chance to win $100 shop credit to Crew + Lu!
DAY 8: Mood Living // @mood_living – My photographer friend Jen turned me onto these gorgeous textiles and I was like, sign me up! I get compliments every time people come over and spot it on my couch. They are just the right weight, soft and great for snuggling! Enter on this day for a chance to win on blanket of choice ($160 value) from Mood Living!
DAY 9: Ele Story // @elestory – I discovered Ele Story this summer, though the 'gram, of course! As you may recall, I love twinning with my one and only girly girl. So any way that we can do that and both feel great about what we are wearing is a win to me! Designer and owner Judy has a little girl about my girl's age, who is her inspiration for her San Francisco based line. Enter on this day for a chance to win $100 shop credit to Ele Story!
DAY 10: Body Language Sportswear // @blsportswear – Back when I worked in fashion, I worked with many talented people, some of whom became some of my very best friends in life. One of those talented people is Nicole, the designer of Body Language Sportswear. She and husband/wife owners Matt and Erica create quality athletic wear for women of all kinds. My favorite go-to for yoga and the gym! Enter on this day for a chance to win $150 shop credit to Body Language Sportswear!
DAY 11: Bambo Nature // @bambonatureusa – if you follow me on Instagram, you know I LOVE Bambo Nature diapers! I switched over earlier this year after having problems on and off with another "natural" diaper brand. I LOVE the softness of both these diapers + wipes, as well as the eco friendly footprint of the company! Enter on this day for a chance to win $75 shop credit to Bambo Nature!
DAY 12: Tea Collection // @tea_collection – I just recently started working with Tea Collection, but I have been a customer and fan for years! Quality pieces, classic styles. You can find great pieces for all the kiddos in your life from Tea! Enter on this day for a chance to win $50 shop credit to Tea Collection!
So as I said, tonight is the first night! Head over to my Instagram @thelovedesignedlife and look for this image for your chance to win $100 shop credit to Fin + Vince!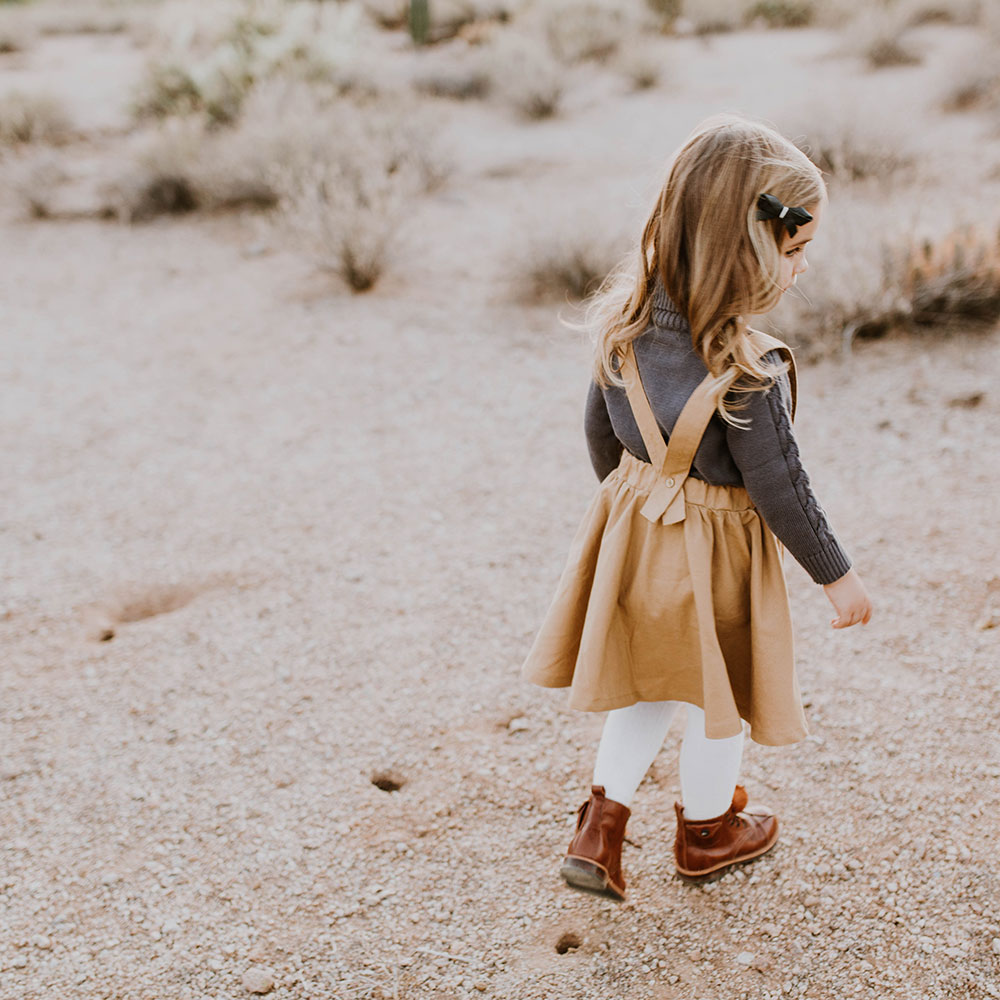 THE FINE PRINT: These giveaways are not in any way sponsored or promoted by Instagram. By entering, you release Instagram of all responsibility. Must be 18 years or older to enter. Your Instagram profile must be set to Public at time of giveaway close in order to validate your account has followed the rules and qualifies as a winner. No immediate family members of myself or of each respective brand may win. Winners are all chosen using a random number generator. All giveaways are open internationally, unless otherwise noted. International winner may be responsible for shipping costs.
This post and giveaway series was created in collaboration with the above amazing brands. I was not compensated for this post. This post does contain some affiliate links.