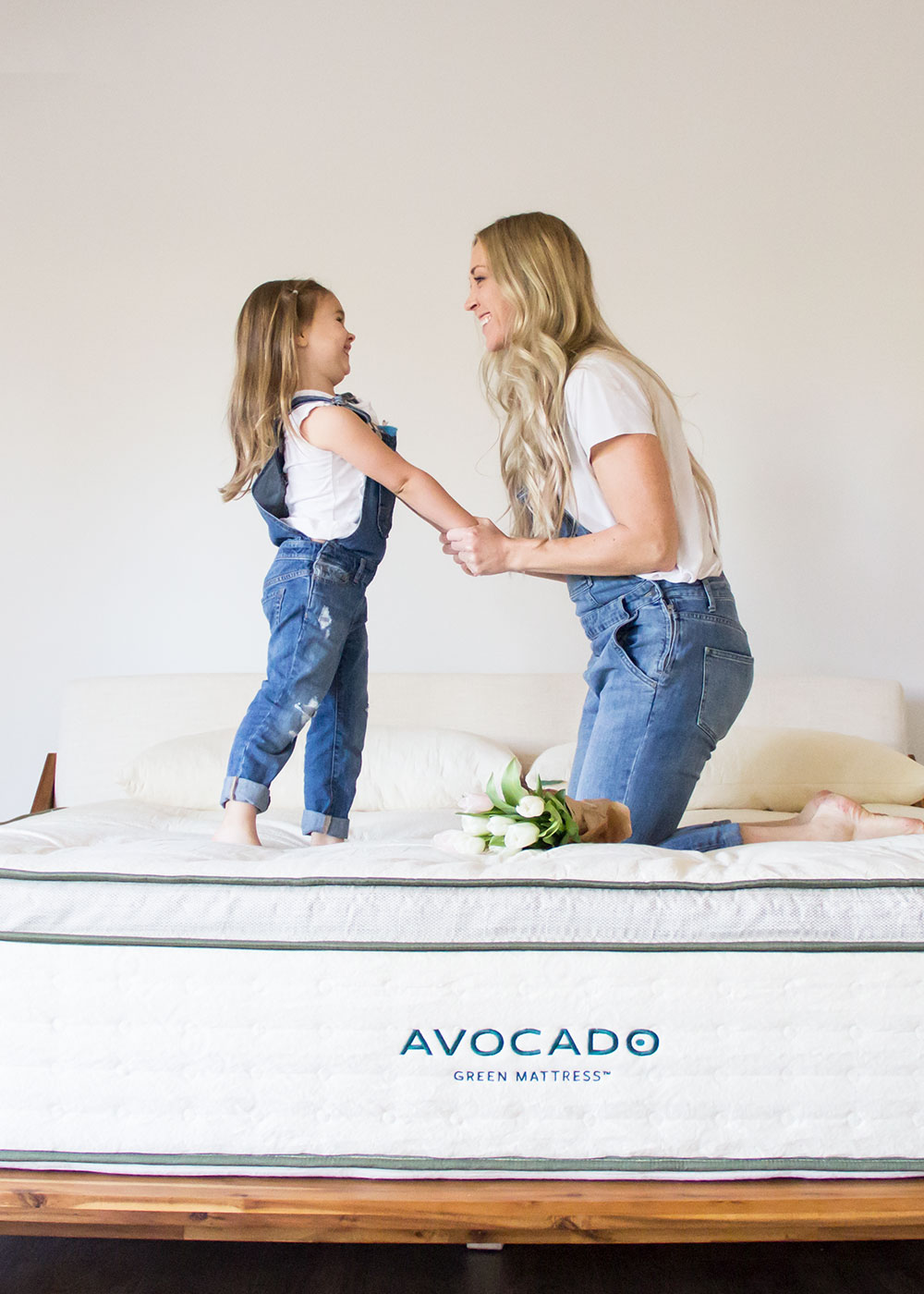 I am so excited to share with you guys about our new truly green mattress we just finally got from Avocado Green Mattress!
First, I just want to back it up a little to share with you about how, over the past several years, I have been researching and working on making our home safer, cleaner, and greener. From beauty products to baby products to household cleaners, etc. there is just so much information and even more misinformation out there! Around the time my first baby was born [nearly 7 years ago, what?!] I started hearing about and then reading everything I could on all of the toxic chemicals in our everyday lives we regularly come in contact with. With my sweet baby on the way, I was a bit terrified and totally overwhelmed by all the information! But I dug in.
At that time, I was already pretty aware of how different foods can affect our bodies [more about that in this recent post], and the importance of eating and supporting local, organic farms as much as possible and just generally putting good things into mine and my family's bodies. But then I read this article about some of the household and everyday products that can be scary toxic. It was a total game changer for me, and I completely changed everything I used in our home. [For the record, that article is about 4 years old and many of those brands reformulate regularly. So it's always best to check the most recent formulations for any potential allergens or toxicity concerns! But I still think it is full of some really good info about many ingredients you may not know about!]
When that baby of mine was born, we had a generous friend who passed down a crib and mattress to us. Which at the time, we couldn't pass up. But I was sure to use all organic cotton for a mattress cover and sheets. And when it came time to switch him to a big boy bed [because little sister was on the way!], I obsessively started researching organic mattresses for his new bed. We were on a budget then, too, but the mattress was one thing I didn't want to skimp on. [See that finished room here.] We went with this mattress then, and I was happy with the standards it met, but to be honest, it was pretty uncomfortable.
One thing I learned in the process of mattress shopping back then was that all children's bedding is required to meet US federal flammability standards. To pass this regulation, many of the major mattress companies will use a chemical fire retardant to pass that regulation. Yikes! I'm not going to go into all the things you should look for in children's mattresses in this post, but you can learn more about some of them in this article.
Not long after that, we decided to make our move from California to Arizona. At that time, we had an older king mattress and we were moving into a small apartment. We decided to just get a new queen one. I again wanted to find a green mattress, but our budget kept me from getting the one I wanted. My husband had always wanted a memory foam mattress and even though I wasn't too keen on the idea – I caved because the price couldn't be beat.
In retrospect, it was a big mistake. Not only was it uncomfortable – too hard and too hot in the summer – but the polyurethane foams that these type of mattresses use are petrochemicals. Petrochemicals foams are commonly paired, due to legal necessity and financial incentives, with harmful chemical adhesives and toxic chemical flame retardants. Avocado Green does not use any polyurethane foams in their mattresses, but instead uses natural dunlop latex rubber. See some more of the natural and sustainable materials that Avocado Green uses here.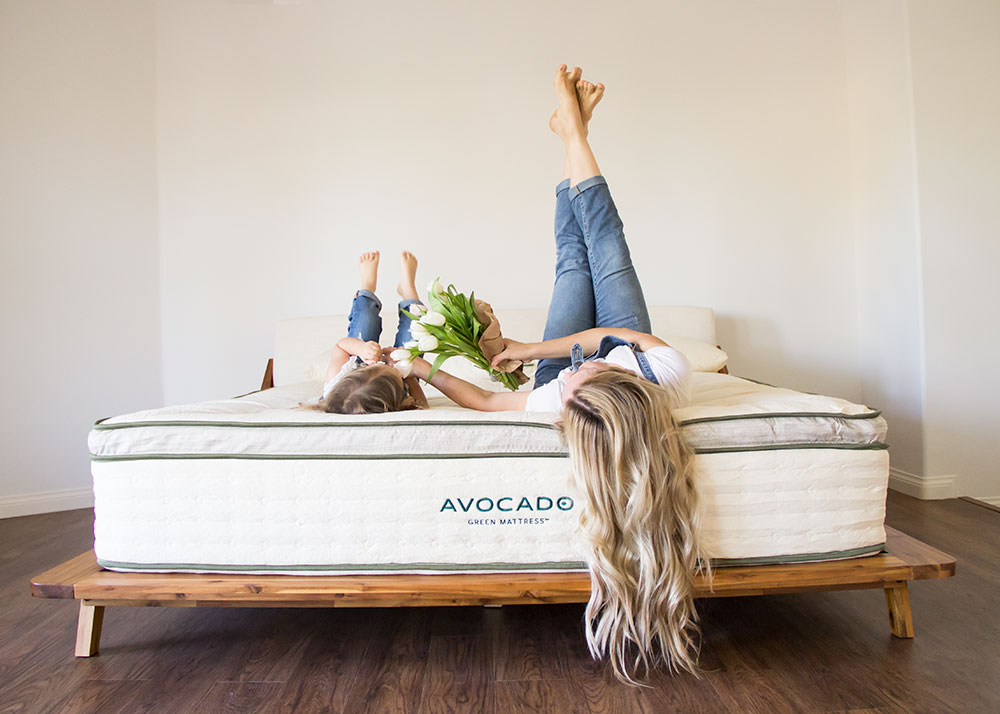 So that brings me to where we are today. As we were finally getting ready to move in to our newly finished bedroom in our renovated home, my husband and I both agreed we missed our king sized bed. I'll be honest with you guys, over the past couple of years blogging, I have had the opportunity to work with other mattress brands. But I honestly don't ever want to promote or own a product I don't 100% believe in. Knowing what I know about all the nasty things that mattress companies put into their products in order to cut costs, I couldn't justify having that in our home anymore. I reached out to Avocado Green because I wanted to try this mattress and to tell you my honest review. [And all of my reviews are honest, btw!]
As I'm sure you can tell by now, the green standards + certifications for Avocado are top notch. I even learned more about what to look for when shopping for a green mattress from them! One thing that is tricky is that there aren't really a lot of standards in the mattress industry [same with the beauty and home product industries] about claims for "green" or "organic". A lot of it is clever marketing. And some brands that do actually meet the same high standards as Avocado are more than twice the cost. So the Avocado Green mattress really is pretty affordable, comparable to what is out there by the same standards!
Another thing I really love about this company is that they make all of their products right here in the US, in California, where they pay their workers a fair wage and provide a safe working environment. All the good feels, right?!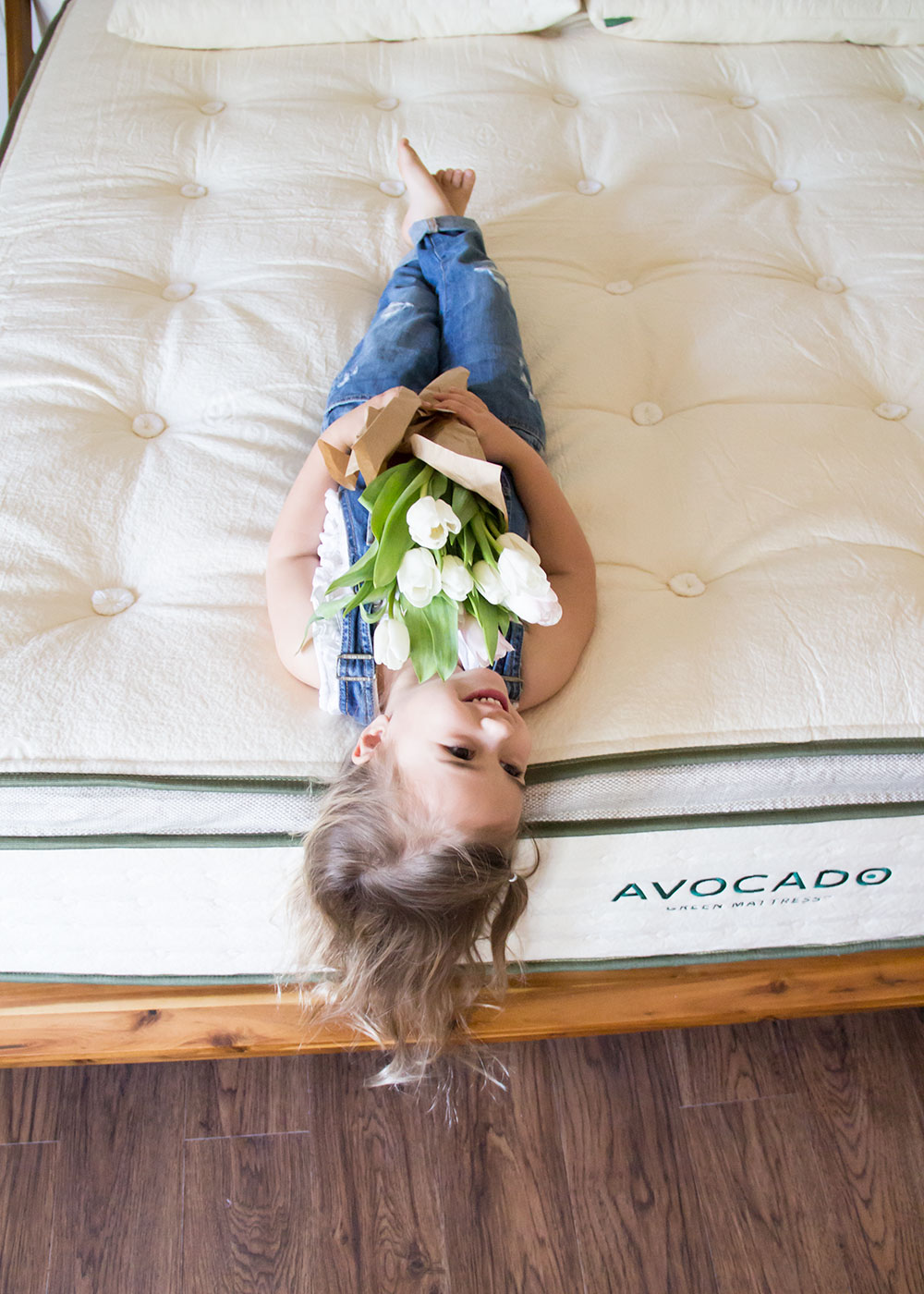 We went with the pillow top in the king size. And oh my gosh you guys, it is truly heavenly. I don't know if it's just because we went from sleeping on our former rock bed to this, haha, but my husband and I both agree, we never want to get out of bed! It's not super soft like you sink in, but not too hard either. Our other bed would get really hot in the warmer weather too and I hated that. This one seems to keep us at the perfect temperature with a lightweight down duvet and sheets.
We also got to try these green pillows that Avocado makes. They are made from the same natural latex and Kapok fill, wrapped in organic cotton. I tried them for a couple of nights, but ultimately decided I preferred my feather pillows better. They are a medium-firm fill, in my opinion, and I like the softer fill of my down pillow better.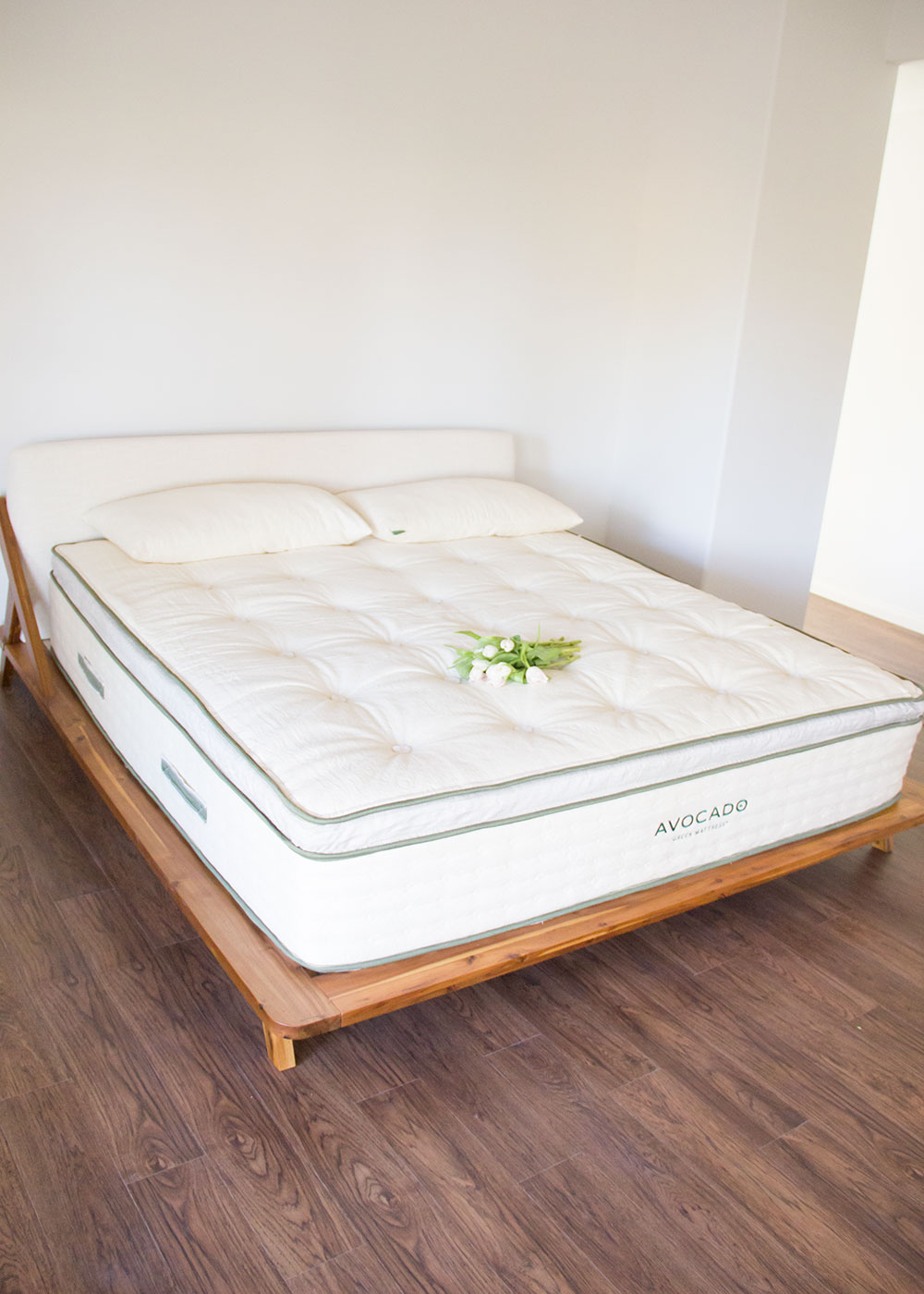 Interested in trying an Avocado Green Mattress? Now is a good time, because they are having a President's Day Sale!
Save $150 OFF any mattress with code: POTUS
or, get 2 pillows FREE with any mattress with code: 2FREEPILLOWS
Other fun perks from Avocado mattress always going on: FREE SHIPPING + FREE RETURNS + 100 NIGHT SLEEP TRIAL + 25 YEAR WARRANTY + FINANCING OPTION.
Now we all are sleeping better over here, I can't WAIT to finish this room. Stay tuned for the full reveal, coming soon!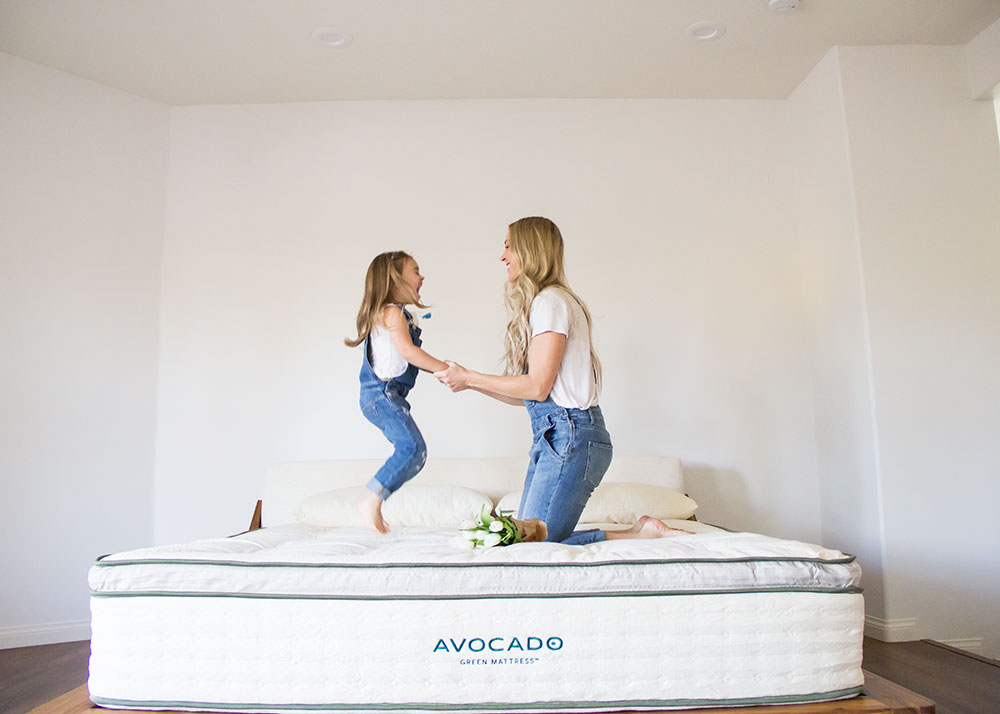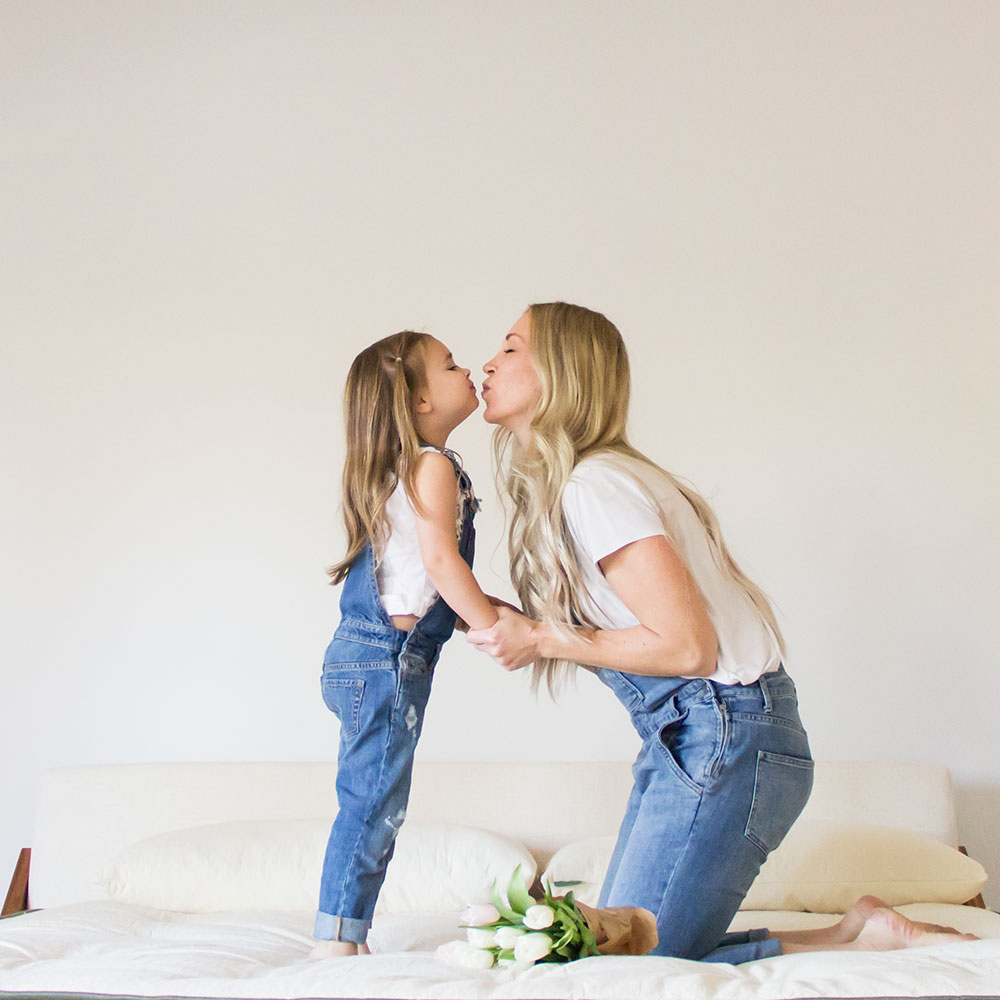 Just to note one more time, our Avocado Green Mattress was sent to me in exchange for my honest review! This post also contains affiliate links. Thanks for supporting the brands that keep this blog going. xoxo