This post has been sponsored by Grove Collaborative. As always, all opinions expressed here are my own.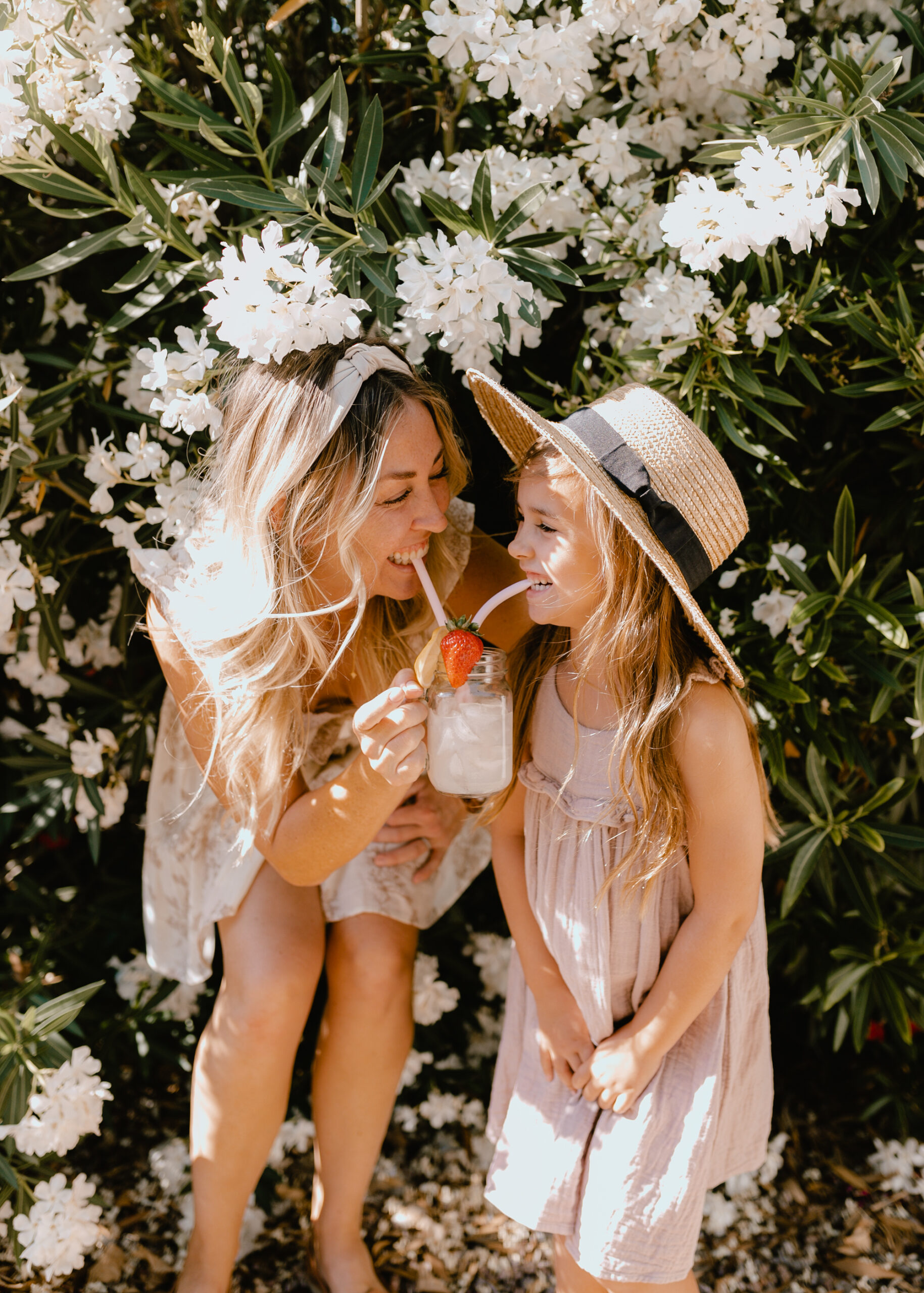 Spring is heating things up here in the desert. Spring is probably my favorite season because it brings with it beautiful blooms, buzzing bees on our fruit trees,  warm sunny weather, and the promise of summer fun to come. Even in these uncertain times, spring brings with it promises a-new that make my heart happy.
You guys know I love finding ways to be more sustainable and give back to the earth in any way I can. That's why I also love partnering with Grove Collaborative and sharing with you guys my latest finds from them. Today I thought I'd share 3 small ways we're bringing spring inside our home, and making the most of this warm weather season, along with a few of my favorite Grove spring products. Now, more than ever, my Grove shipments delivered right to my door are saving the day, and my sanity!
For more simple tips on starting your sustainable journey, be sure to check out this post, and this one too!
One of my favorite ways to bring a little spring inside is with fresh flowers. Since fresh flowers are a little harder to find at the grocery stores these days (where I would normally pick some up), I am so grateful to have been recently gifted these orchid plants for Mother's Day. Also, potted flowers last longer than cut flowers, so I get to enjoy them for even longer! I actually just got my first orchid plant ever to sprout new blooms, and I have to say, I am pretty proud of myself.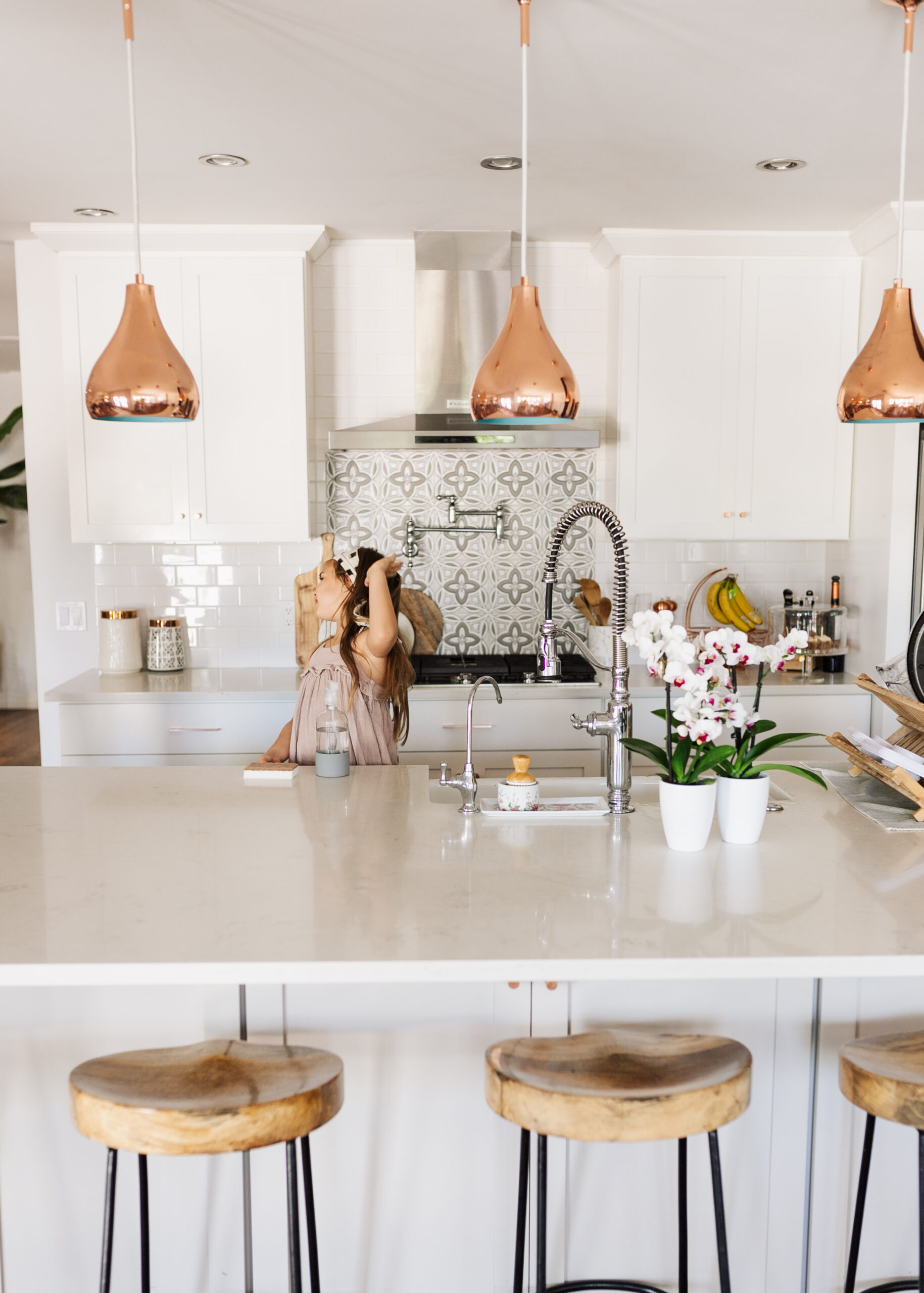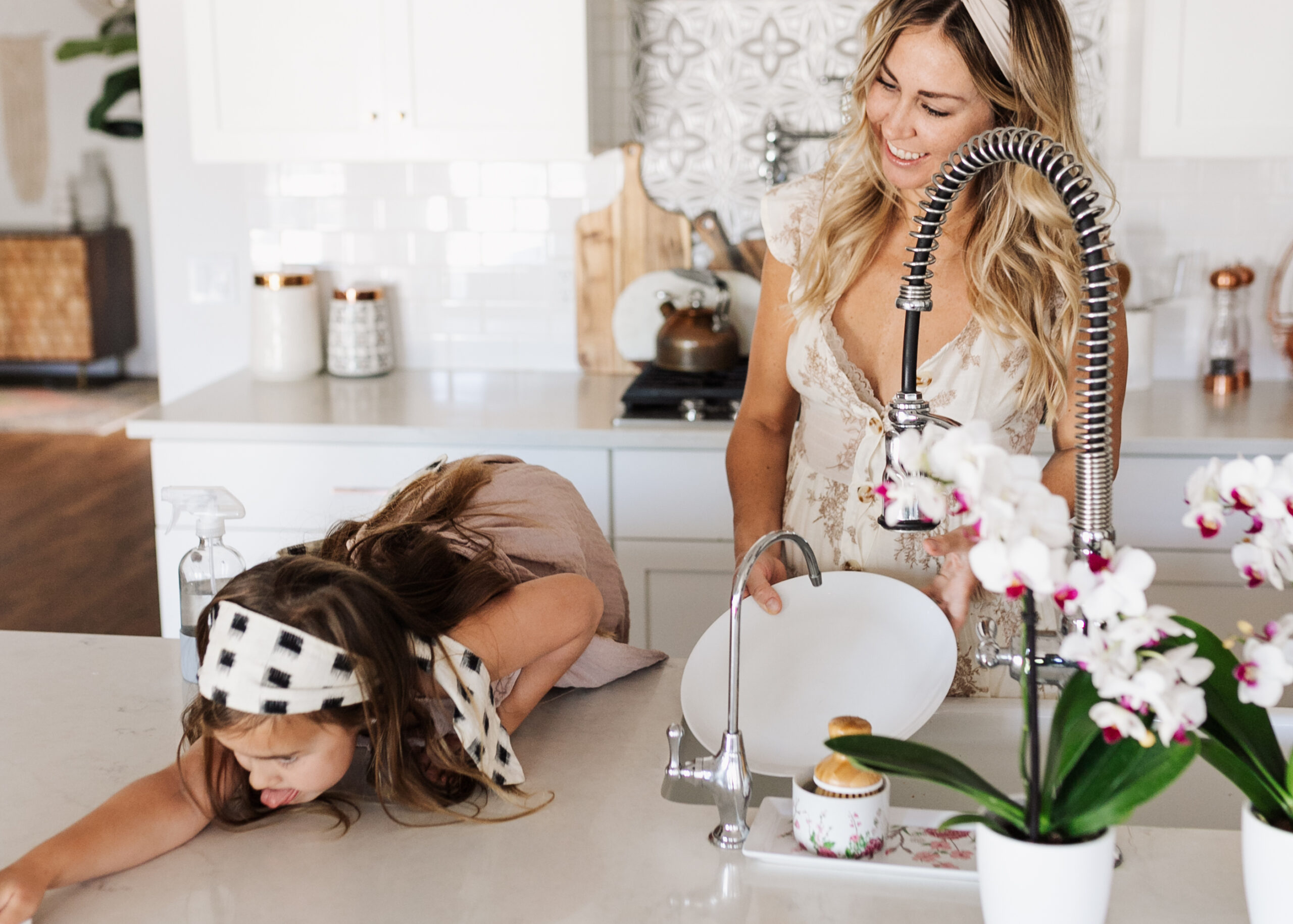 Speaking of potted plants – they are another great way to bring spring inside your home. I love having various live green plants throughout my house all year round. In the spring is when most house plants come out of dormancy. My plants are sprouting new leaves left and right right now and it makes my plant mama heart so happy! Did you know that having house plants can clean the air and boost oxygen levels in your home? And I am here to tell you, when you take care of them and watch them grow, it is wholly satisfying.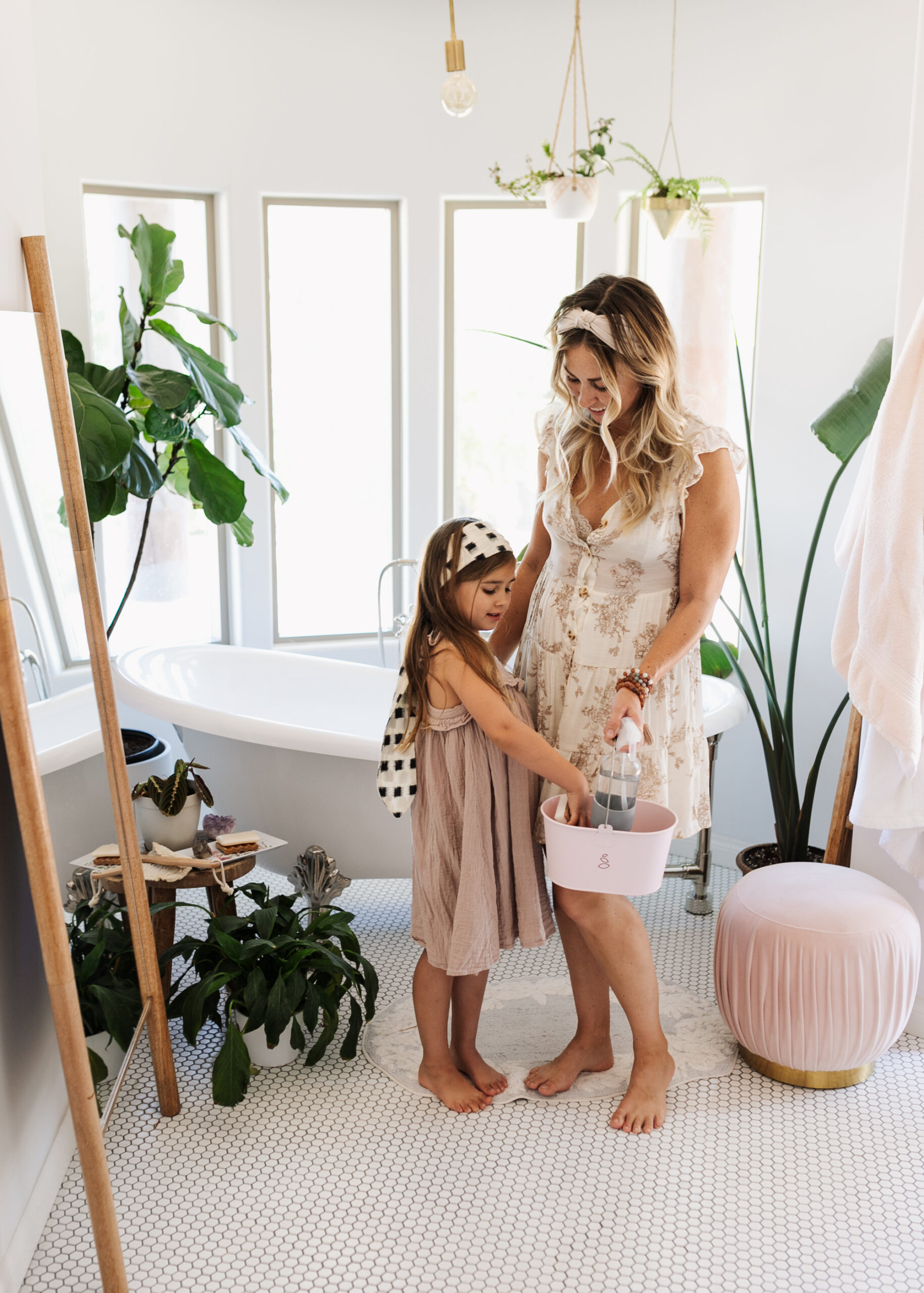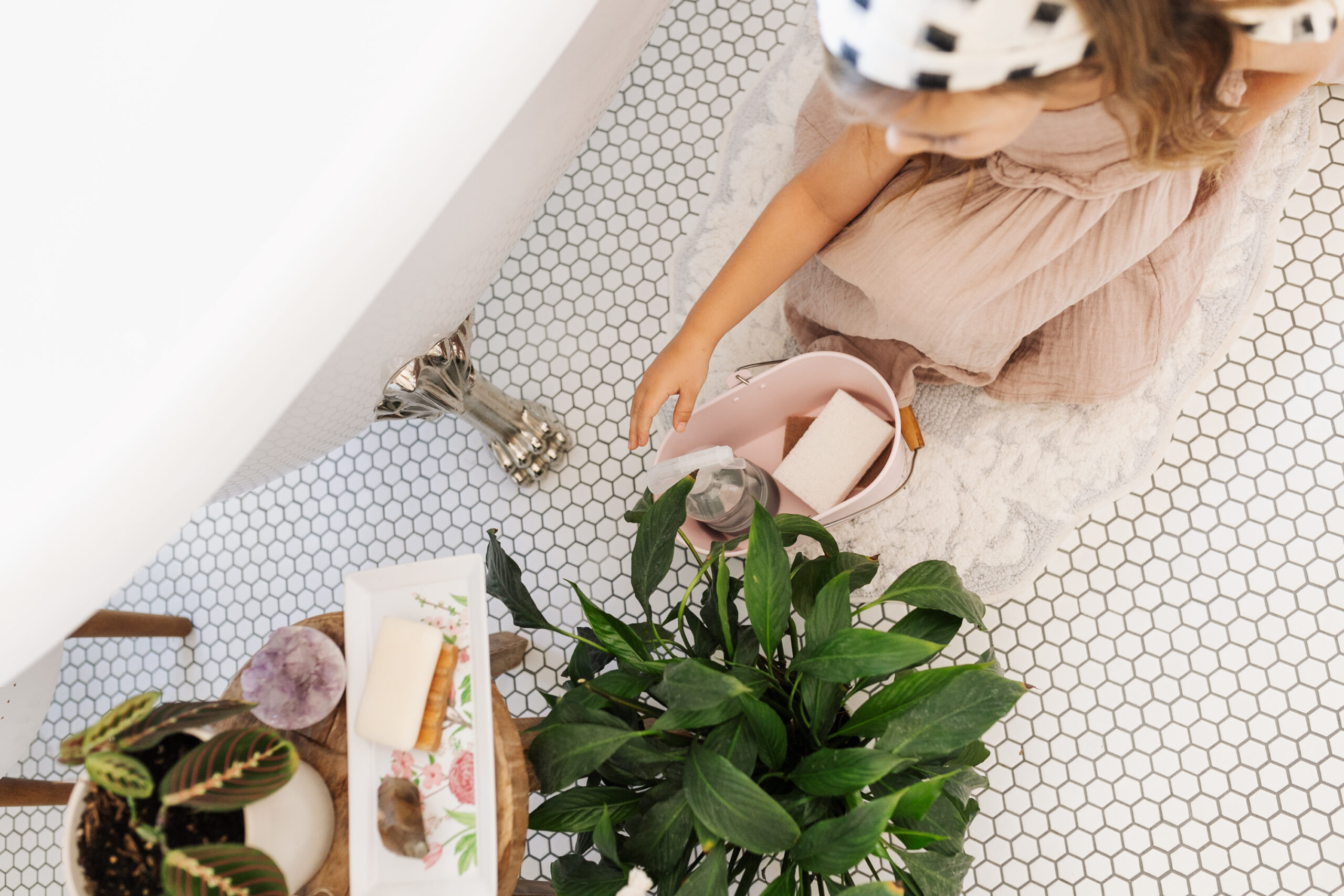 The third way I like to bring spring inside is by spring cleaning. I mean, I can't think spring without thinking of cleaning! And again, during these unique times, where our whole family is at home and we are doing our part to stay safe and keep our community safe, we are doing more our own cleaning (rather than having our cleaning lady come, as we would occasionally do previous to the Stay at Home Order). This means the whole family is pitching in more and doing their part. As you can see, my daughter got in on the action helping me clean our bathroom and the kitchen with our Grove All-Purpose Cleaning concentrate. I got it with this glass spray bottle set (to dilute) and use it all over the house!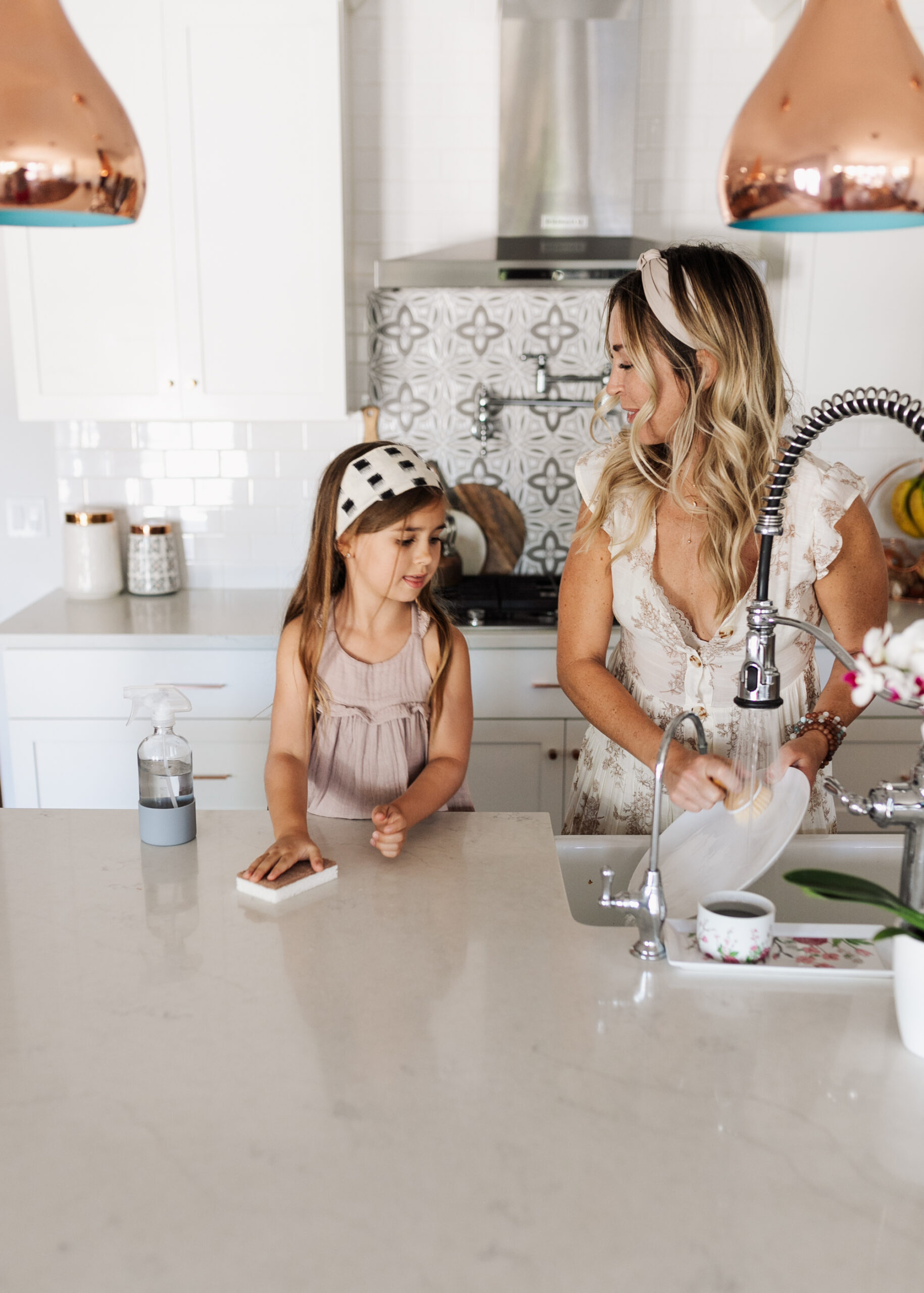 I have to take a minute here to share some of the other facts I really love about Grove. Not only do they have a great selection of plant-based, free-from-harmful-chemicals, and sustainable products for our home, but the company itself has some wonderful initiatives that will help reduce waste for our planet. And that honestly gets me pretty excited!
As a Certified B Corporation, Grove is recognized as a business doing good for people, animals, communities, and the planet.
Grove offers a carbon offset for every shipment that goes out their door!
Your shipment will help Grove in its partnership with the Arbor Day Foundation to plant trees across the United States. They are aiming to plant one million new
trees over the next three years.
By 2025, EVERY product Grove makes and sells will be plastic-free. As a first step to plastic-free, they are now plastic neutral in partnership with Plastic Bank.
If you're ready to get started on your sustainable journey and bring a little spring inside your home this season, Grove wants to give you a FREE gift with your first order! All you have to do is click on that link to get the free spring gift for the month of May.
By the way, how adorable (and convenient) are these pink reusable silicone straws? They come with their own little straw cleaning brush and a canvas carrying bag for on-the-go! Or for sipping lemonade in the backyard, as the case may be. 😉