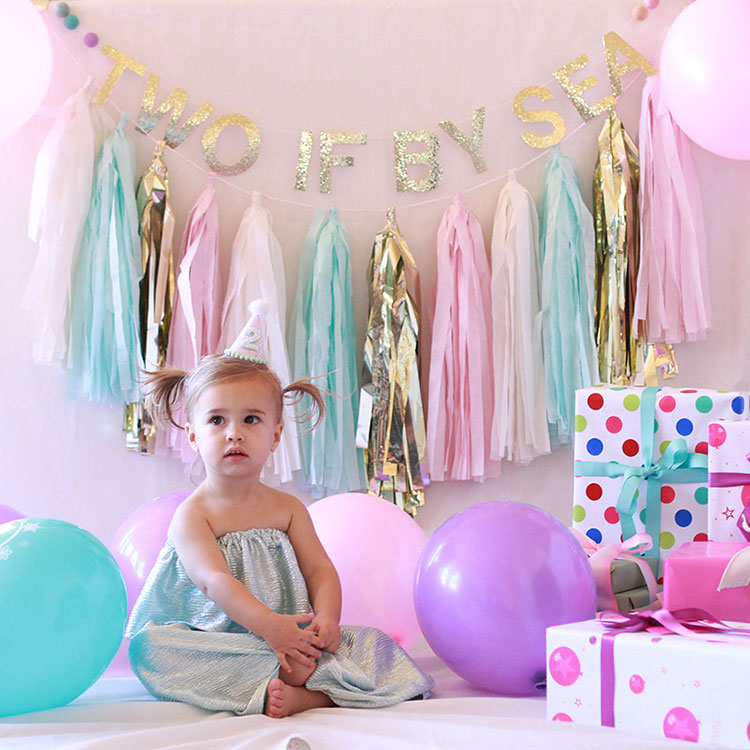 Now that the holidays are winding down, I finally have a chance to revisit my little muse's second birthday party.
It is no secret that I love a fancy birthday party. Her first birthday party last year took a lot of time and energy to plan, and I loved every minute of it. But as much as I truly enjoy creating magical memories for our children [and let's be honest, for us as parents], even I have my limits. Even with all the crafting and DIY-ing possible, parties of that nature can get pricey real quick. And of course I do consider the fact that at such a young age, will they even remember? And there is always the final issue of inviting a bunch of other two-year-olds with siblings of various [ahem, preschool] ages. Between illnesses and busy schedules, will anyone even show up?
For a minute there I thought I wouldn't be able to resist planning another uber-girly party for her. So I did start with a mermaid theme, "Two if By Sea" and a few choice decorations. My friend Hana of Little Dovie made us this custom banner and this Siena London two piece dress was perfect! But then as it does, life got busy. I had a lot of business opportunities present themselves all at once, and as her birthday is always so close to Thanksgiving, we were expecting company in town. I decided for once, to take something off my plate.
Generally speaking, we have adopted a birthday party strategy that I read somewhere [sorry, can't remember where exactly] where we do a bigger friend party every other year. I personally think the first year is a significant cause for celebration.  Any mother will tell you, the first year is [arguably] the hardest. It's when you find your village and it's rewarding for everyone who held you up for that year to get to celebrate the milestone together.  On the "off" years we might do a special fun trip like to Disneyland or, as we did this year for little miss A, a small family party with just a pretty backdrop, cake, presents, and of course balloons. Because all kids love balloons! [These shots from her actual birthday morning.]
It's funny because in a way, her birthday marked another milestone for our family. Her first birthday party was held in our former home, Los Angeles, exactly one week before we moved to Arizona. So a big party would have been fun to again celebrate with all the people whom we have met and have supported us since we came here. But all in all, keeping it small and simple this year was the right decision for us. Little A could not have been more thrilled with everything [especially the balloons]. There was no doubt in anyone's mind that it was her special day.