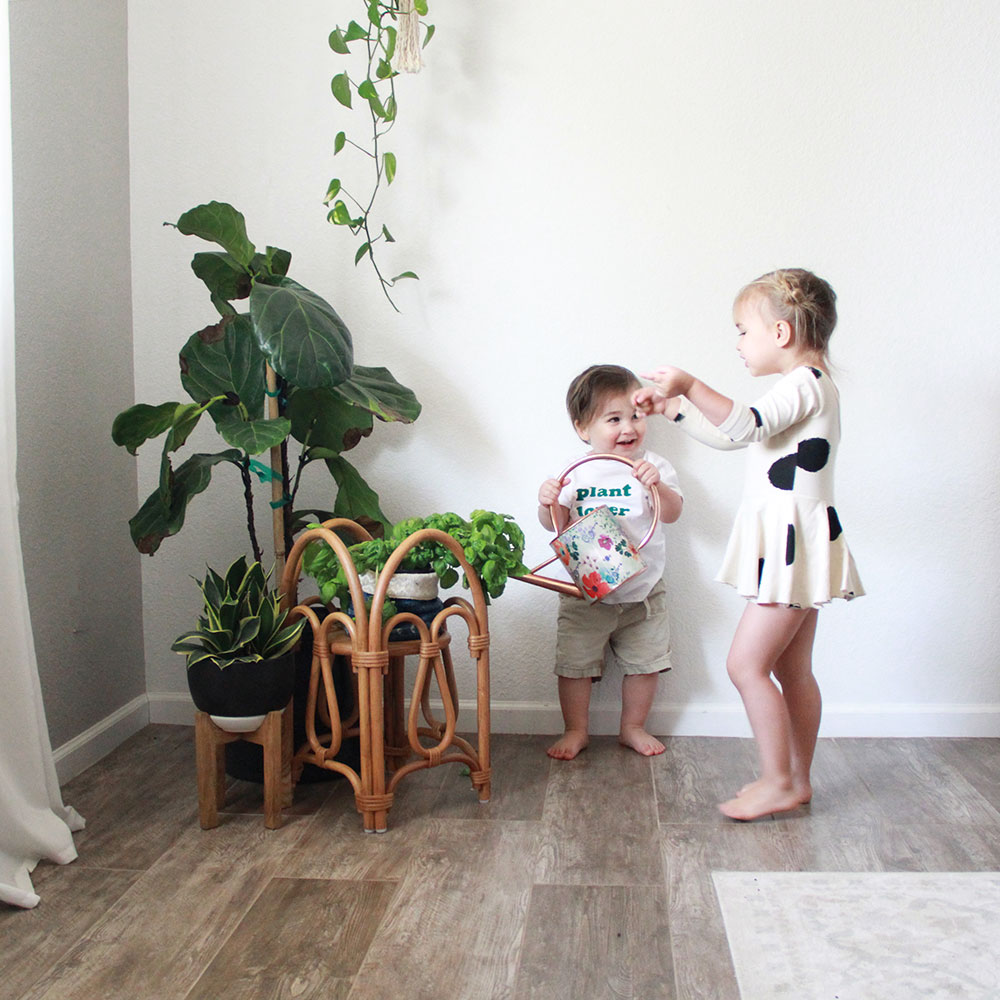 Spring to me is all about flowers and warm weather, sure, but also it's all about spring cleaning! To be honest, I have been wanting to clean out and organize some spaces in our house for a while. It was one of my New Year's goals [and on the to-do list even before that]. But at least for me, it can be so hard to find the time! Regular life with three kids is just busy, and with my husband traveling as much as he has been, getting dedicated time to do a thorough cleaning anywhere in our home is challenging. But I finally made a dent in that to-do list this last week and it feels so good to have this space a bit more functional! So I thought I'd share a few tips I learned through the process.
This closet was the last space from when we moved last year that really hasn't been touched. When I got my office put together last summer, I meant to finish off with organizing this closet, but again just never got around to it! The stuff in here used to live in a large bookcase we had in every apartment we have lived in as a couple. It was from IKEA and I guess it was about 10 years old already! Plus we didn't have the right space for it in our new house when we moved, so we gave it away. We knew when we moved that we didn't need all of the things in it and that we would have to reorganize what it used to hold. But again, that is a process that has taken some time. So finally, the other night, I dug into this embarrassment: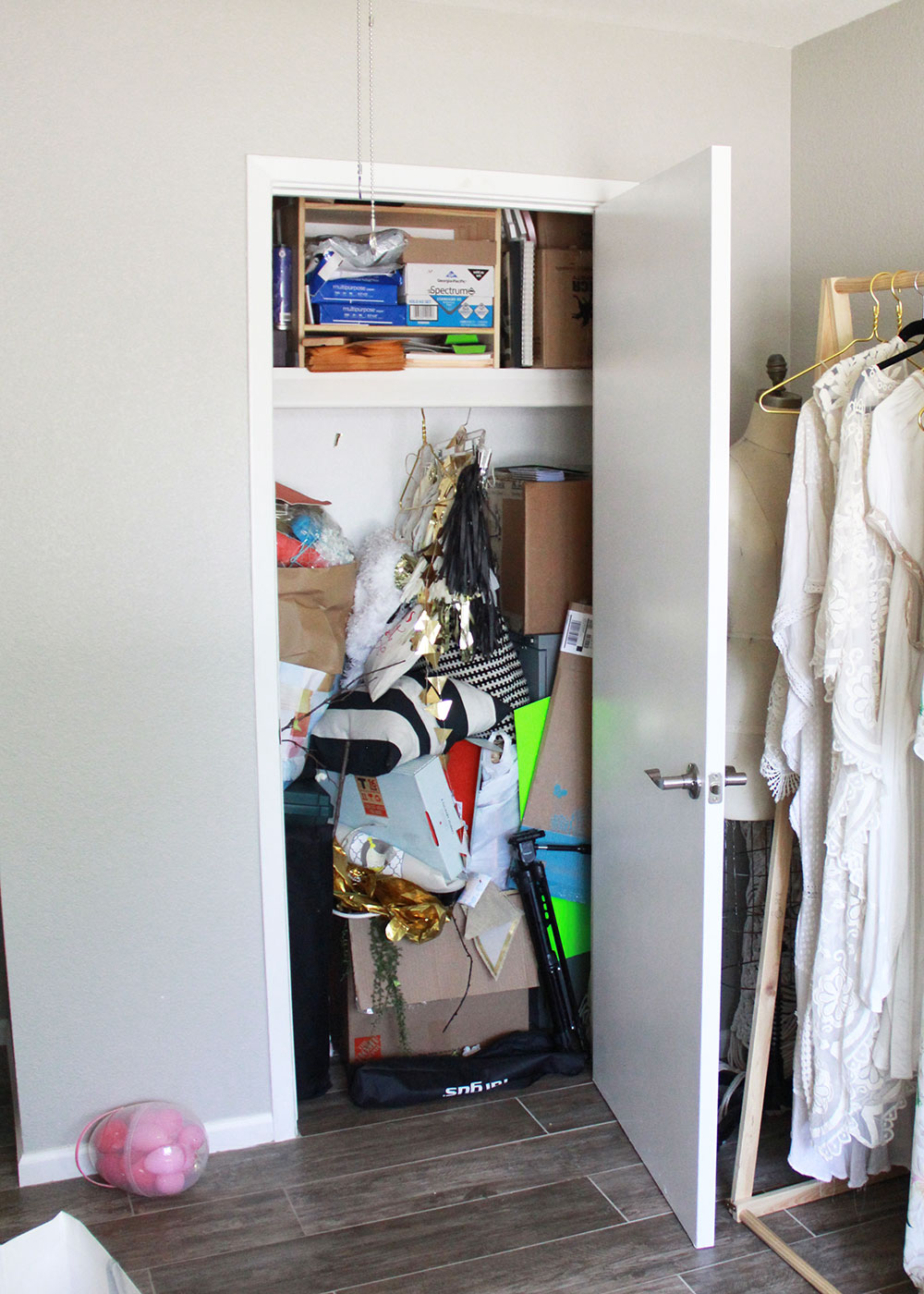 I started simple by taking everything out. I rolled up the rug in my office so it wouldn't get too dirty and just pulled it all out so I could see what was there. Then I started going through, box by box. I started by making three piles:
keep
trash
donate
Of the things I wanted to keep, I made three groups of like things:
books
art/craft supplies [any other former scrapbookers out there?], also sewing supplies and some party decorations.
 pictures/photograph albums
Once I could see what I had, I went shopping at the Container Store and Target to see what I could find to fit the space. The closet is pretty small, and even though I was able to get rid of A LOT of stuff, I still had limited space to work with. I loved some of these tips I found on the Desert Storage blog about how to effectively use storage space. I especially liked the one in the blog post about how to take advantage of cubic space by going vertical with storage. So when I was shopping for storage items, I looked for those that could make the most of going up, since there isn't a lot of floor space to spread out in this closet.
This piece was from the custom section of the Elfa storage system at The Container Store. I like the height of it and that I could use different drawer depths. Also, it is about the same size as the filing cabinet we already had. Which created a nice symmetry to the space.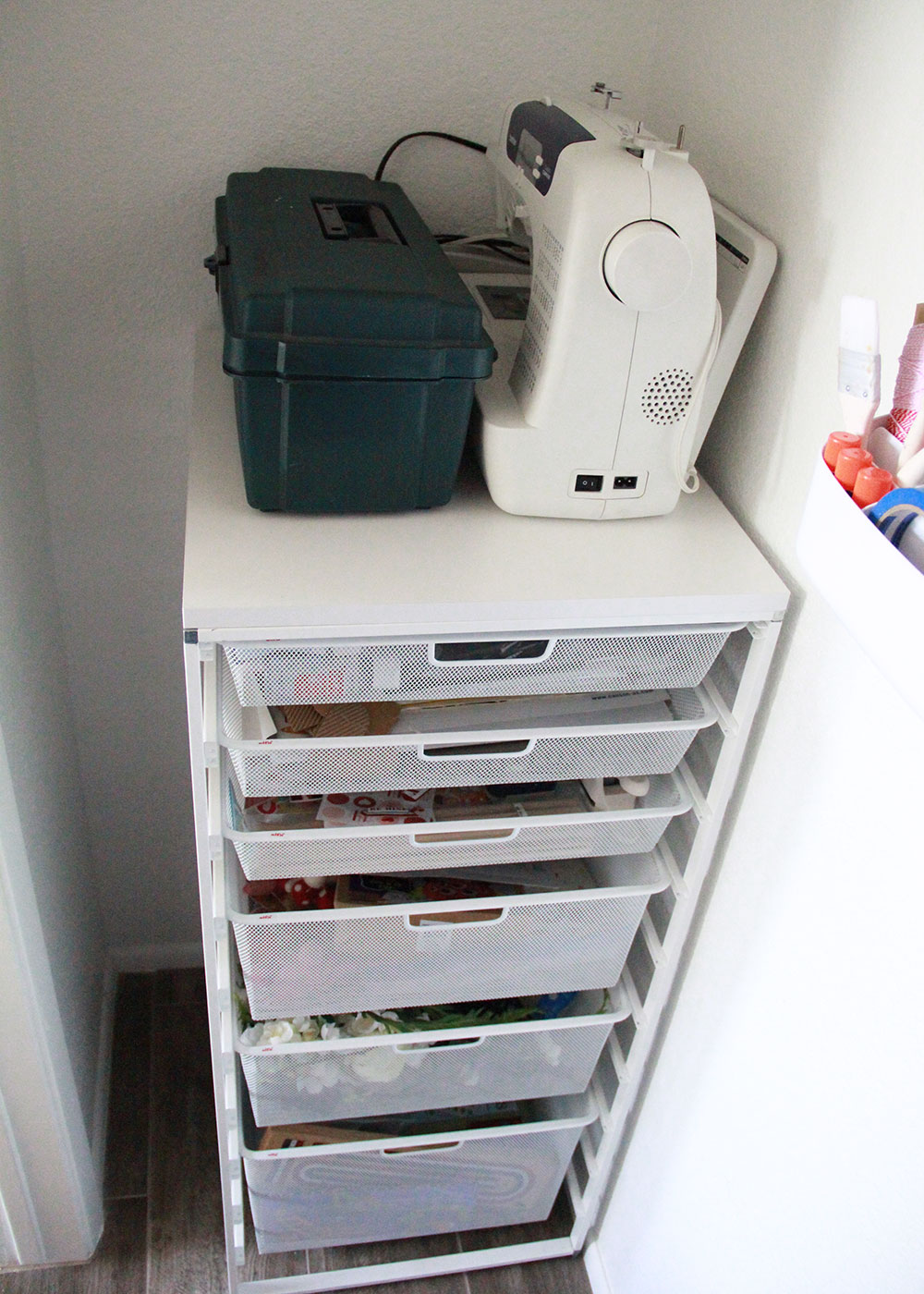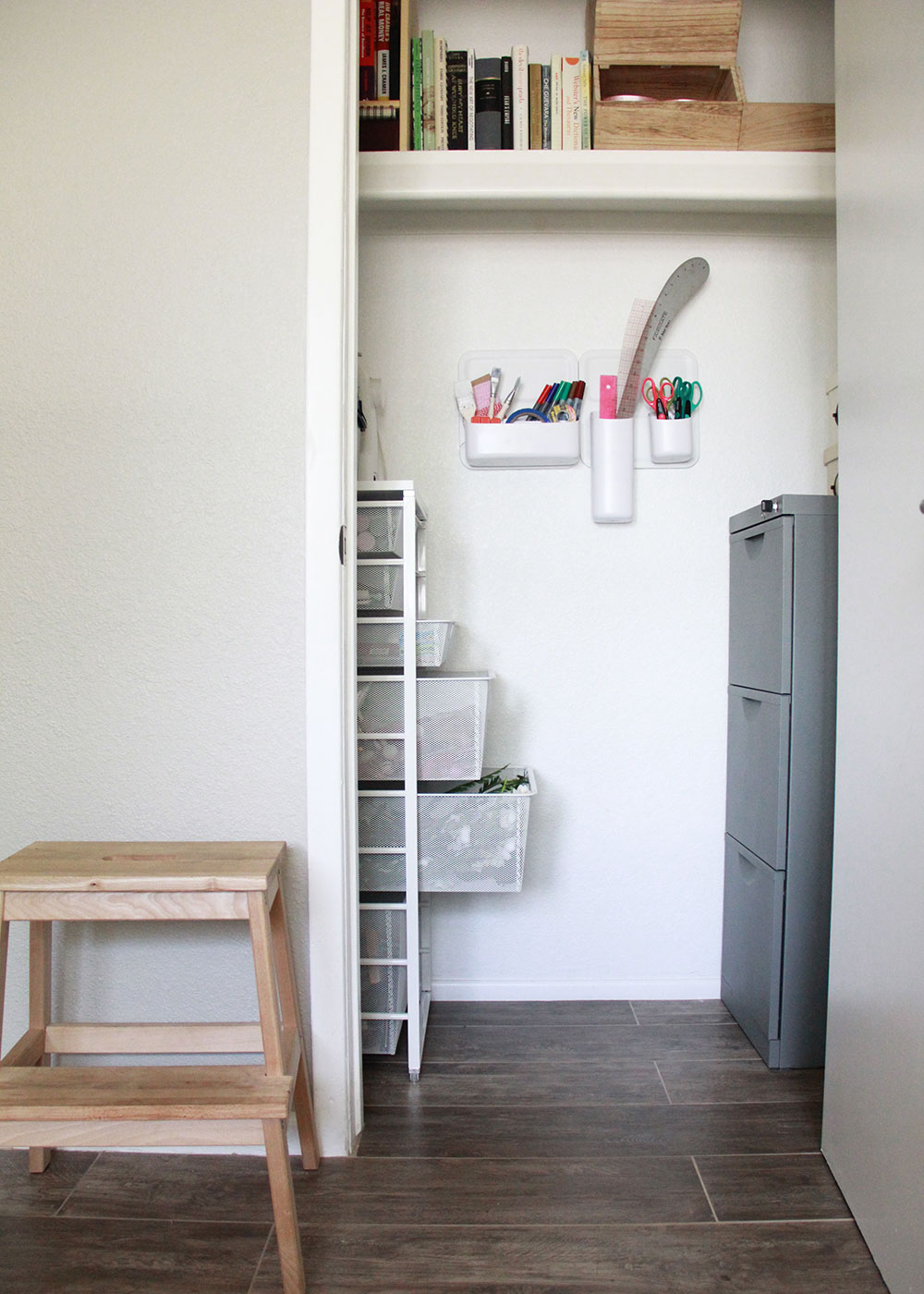 Medium 10-Runner Frame White // Medium Melamime Top // Medium Mesh Closet Drawers
On the top shelf, I repurposed a little shelf we already had from IKEA for a few books. Then put a few more books directly on the closet shelf. On the right side, I found these cute stacking crates from Target. I think I still might get one more so I have four up there. But they are nice to hold odd-shaped items, like my tea light candles and photo props.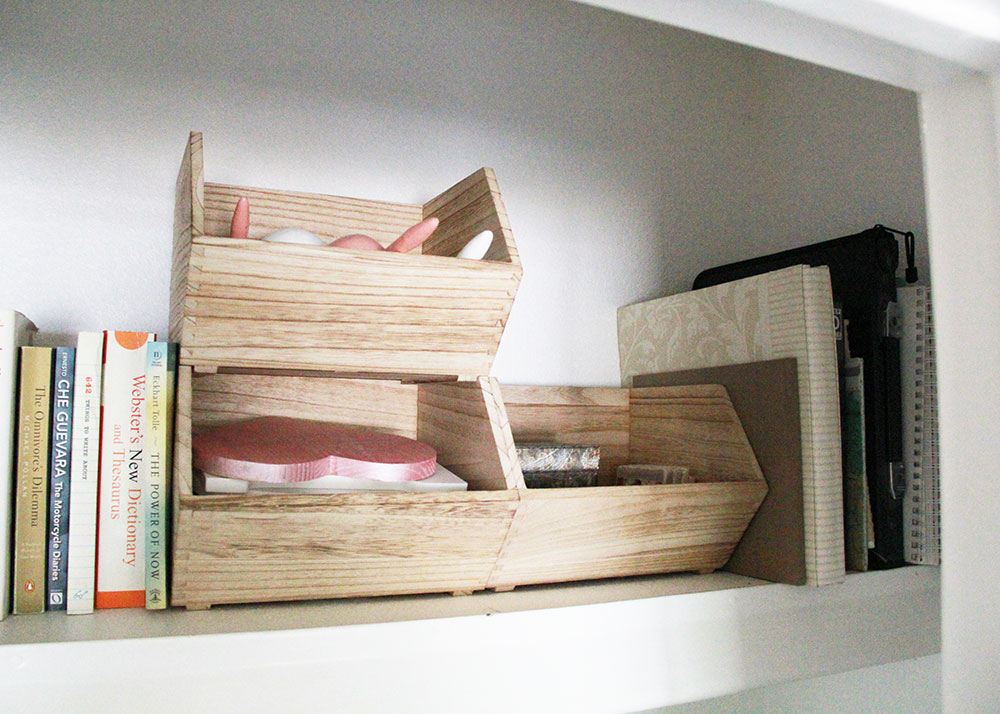 This filing cabinet we already had, although we couldn't even get to it before with all the junk in there! And the little boxes on top I got a while back to help hold all the printed photos we have that aren't in frames or photo books.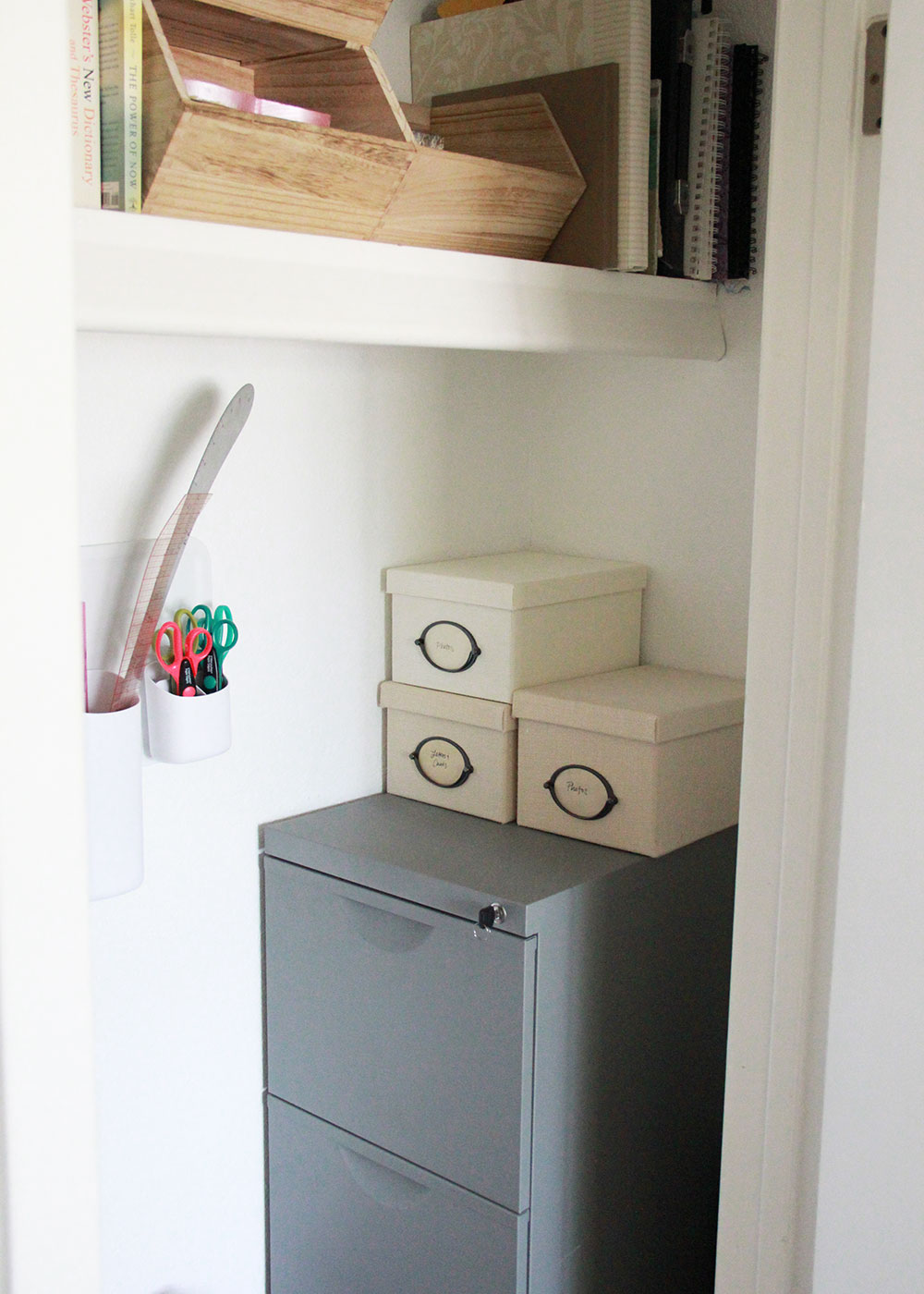 I wanted to keep some of my crafting supplies within reach for the kids. They have their own art supplies in another place in our house, but at least for my big kids, I thought it would be nice if they could have access to these sometimes too. And the little space between the drawers is perfect for storing this step stool.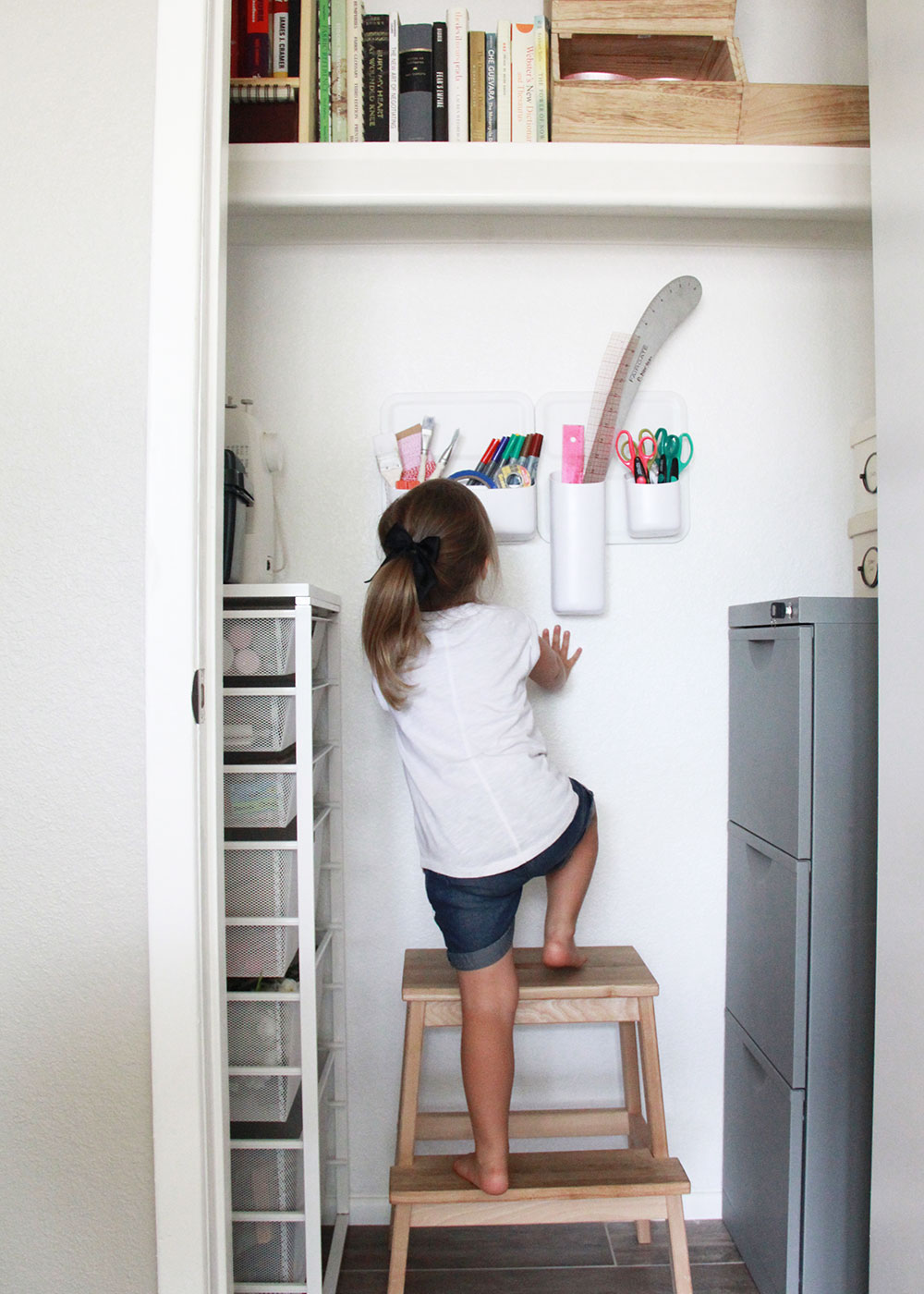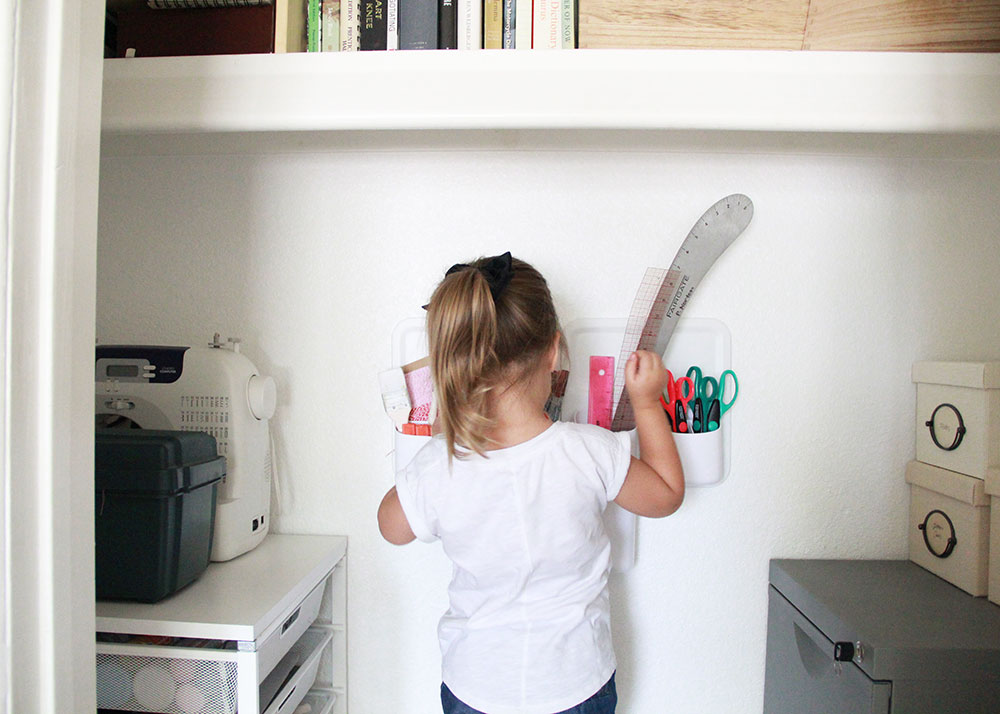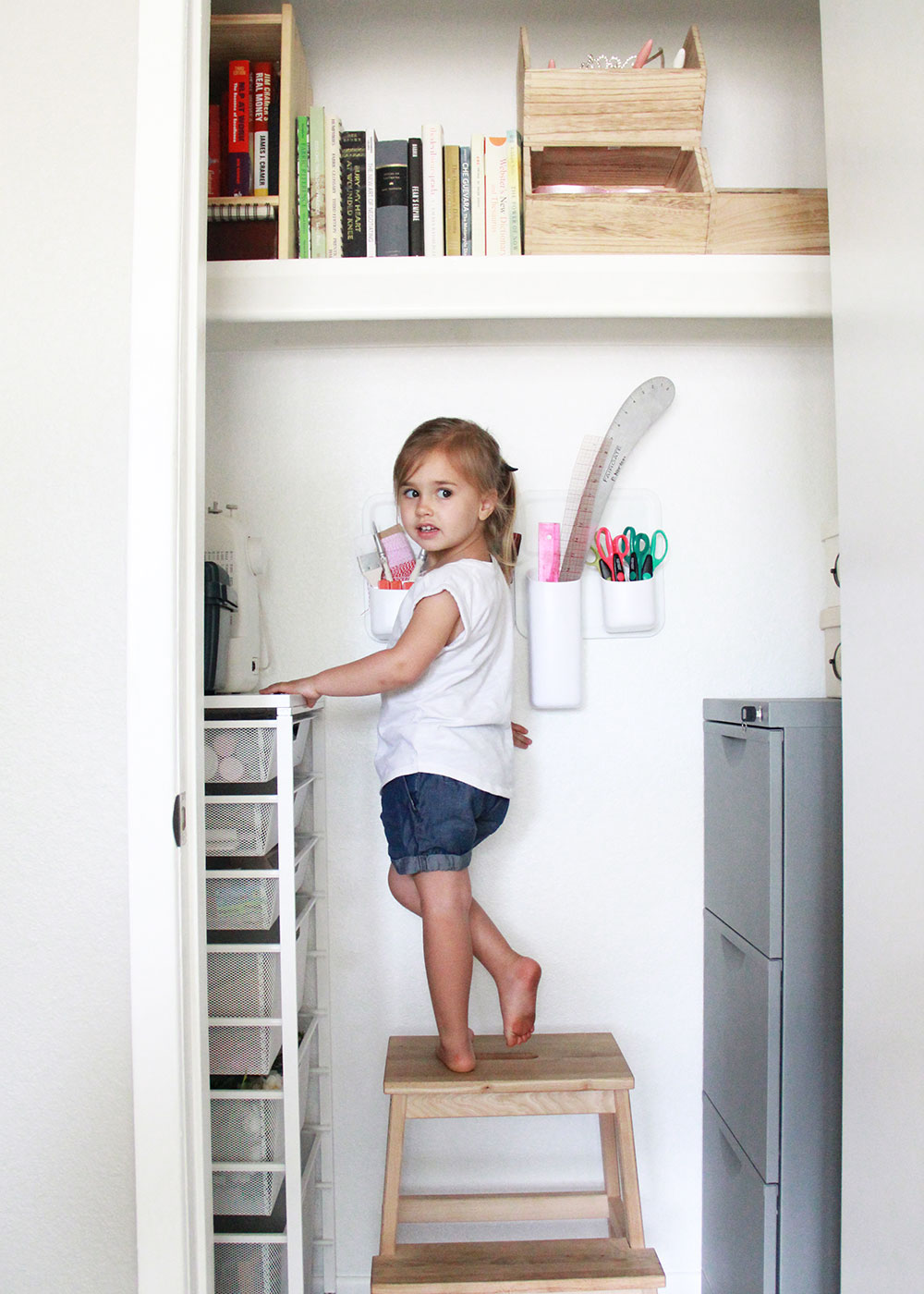 One of the main reasons that I wanted to have this space clean and organized as well is that we hope to be moving soon! We are on the house hunt still and getting closer to finding our dream home! It might seem odd to do something like this before moving, but when things are organized it is SO much easier to pack it up, move it, and unpack on the other side. And, we can take all of these organizing tools with us!
I hope these tips were helpful as you are spring cleaning and organizing!
This post is sponsored by Desert Storage. Desert Storage is a great local resource for the Phoenix and surrounding areas for all your storage needs. They have everything from air-conditioned self storage units, outdoor vehicle storage, truck rentals, wine storage, and more! I'm sure we will be needing to store some of our things as we go through the moving and remodeling process on our new house! A special thanks to Desert Storage for giving me lots of ideas on how to make better use of our stored items! As always, all opinions expressed here on The Love Designed Life are honest and all my own.