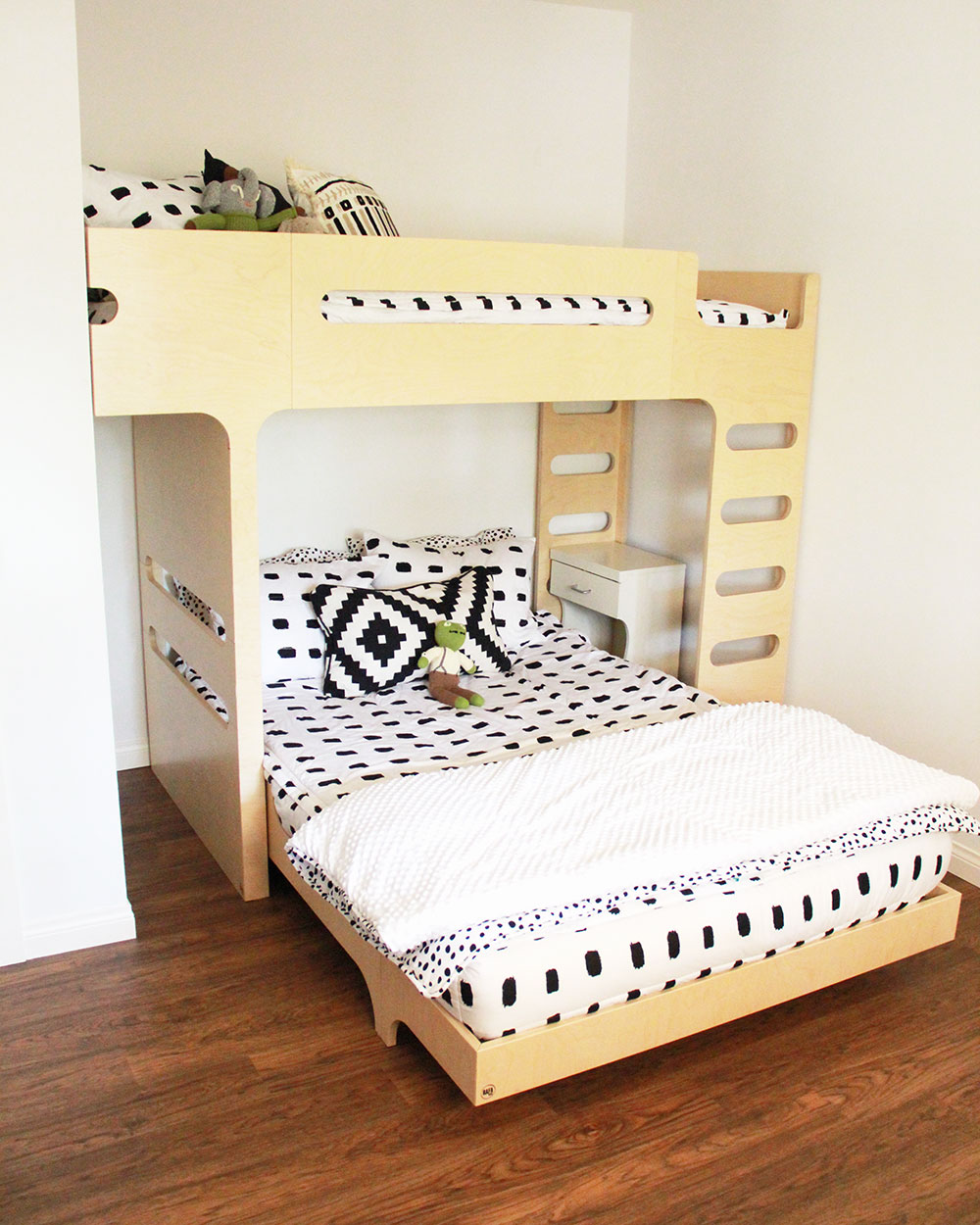 I have been meaning to put my boys' room inspiration together for a while now! And now that we are moved in, it's finally starting to come together. As with all things moving-related, it has been a process. I am so impatient and just want things to come together like, RIGHT now. Ha. But it is a labor of love and I honestly do enjoy the process.
I am SO particular about things, so I spent a lot of time picking out and debating each and every piece for this room. I want the room to be kid-friendly, obviously. But I also want it to be sophisticated in a way that it can grow with the kids. So, I was thinking about things like machine washability, safety, and general easy-ness for the kiddos. But also timeless pieces that will work for years to come.
First thing I found was this bunk bed for the boys. I stumbled across RAFA kids on Instagram one day and instantly fell in love with the clean Scandinavian design of this bunk bed. As I researched it more, one of the other things I really loved about it is that the top bunk is a little lower than many other standard US bunk beds. The whole line is actually designed for small spaces! Which works perfectly in these bedrooms, which in our old house, are pretty small. Also, I loved that the top bunk can stand alone as a loft bed. And likewise, the bottom bed can also be pulled out and work alone. Because lord knows my boys most likely won't want to share forever! As far as it fitting PERFECTLY into this corner, it was honestly just luck. We added this wall between what was one bigger room to create the kids' rooms and as my contractor was framing it out, I was shopping for beds and the measurement was within 1/2″. I was super excited!
Next up was bedding. I loved my oldest's bedding we got him a couple of years ago. But truth be told, he had a really hard time making his bed everyday. Well at least up to my standards, ha. I have a thing for made beds. My mama raised me to always make my bed and it just brings a sense of peace and level of cleanliness to a room, even if the rest of it is a mess, ya know? So again one day when I was again perusing the 'gram, I came across Beddy's bedding and I was instantly SOLD. It just goes on as one piece (sheets and all!) and then all you have to do to "make" your bed is zip it up! It's a mom's dream come true, I tell ya!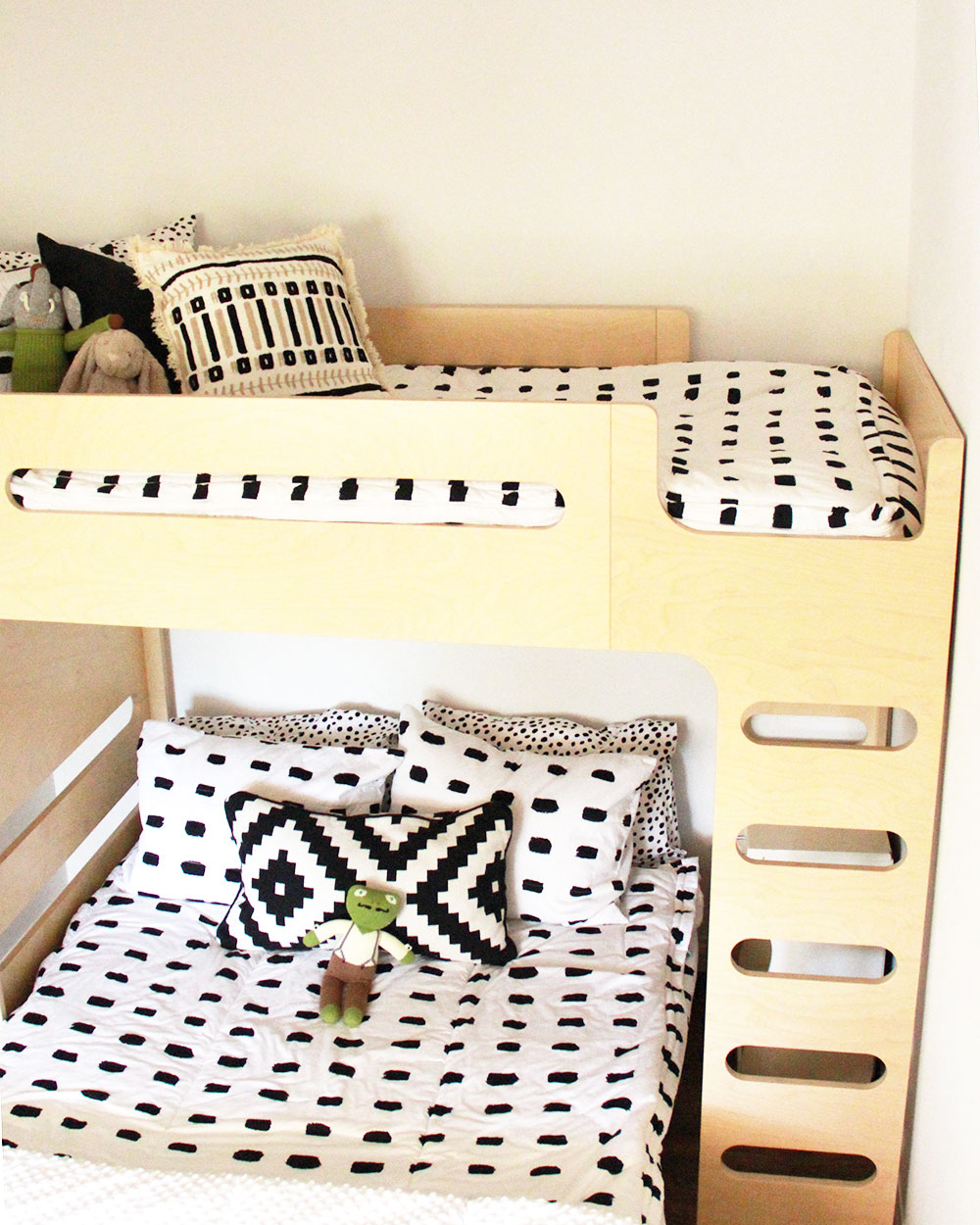 Getting the beds together feels like a big accomplishment already, but I still have more to do in this room! Actually we haven't even transitioned Diego out of his crib yet because he's not climbing out or anything so we figure, might as well wait until he's ready. So I will leave you with this little inspiration board for now, and will share the rest of the details with you when I do the room reveal post in a few weeks!
Also see my modern white kitchen inspiration here.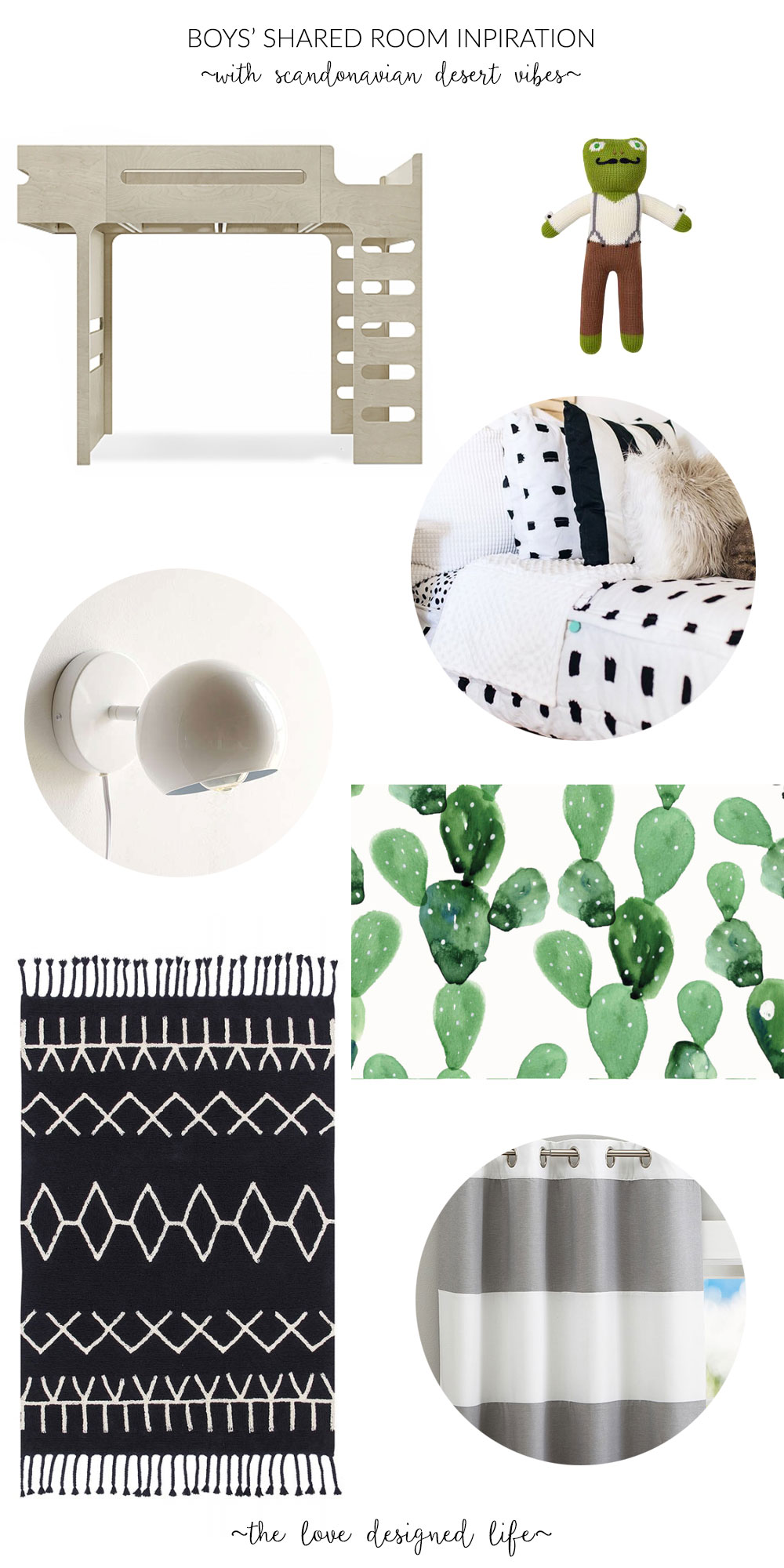 bunk bed – top // bunk bed – bottom // frog // light // wallpaper // rug // curtains
This post contains some affiliate links. A special thanks to Beddy's for sending us this amazing bedding for the boys in exchange for my honest review of it. As always, all opinions expressed here are my own!